MANILA, Philippines - Sometimes in life, the biggest challenges turn out to be the biggest blessings. Take it from Edita Dacuycuy, owner of REFMAD-V Enterprise, the first and so far only dragon fruit plantation and processing facility in Northern Luzon.
Borne out of the need to provide a special child with a cure for her constipation problem, Edita, who is from Pasuquin, Ilocos, discovered the wonders of the dragon fruit.
"As a mom you only want the best for your child. Kate, the youngest among our four children, has cerebral palsy and constipation was an inherent problem. Sometimes, we even had to go mechanical para lang makabawas siya," Edita tells STARweek at the Sofitel hotel where Ilocano cuisine and products were featured recently.
"Aware of this problem, a friend of mine gave us a dragon fruit, which was used by her boss in Macau who had cancer. I researched a lot about the fruit because it looked weird and was quite costly at that time, around P450 per kilo, for just two pieces," Edita says.
True enough, the dragon fruit, a plant native to Mexico and some parts of South America, worked like magic on Kate. It did not only ease her constipation problem, but also reduced her seizures and spasms.
Turning 35 this June, Kate is doing well, Edita says with obvious joy.
"She is helpless when it comes to motor skills, but IQ-wise she is very intelligent," the loving mother says.
Side by side with Kate's improving condition came another blessing – a dragon fruit business.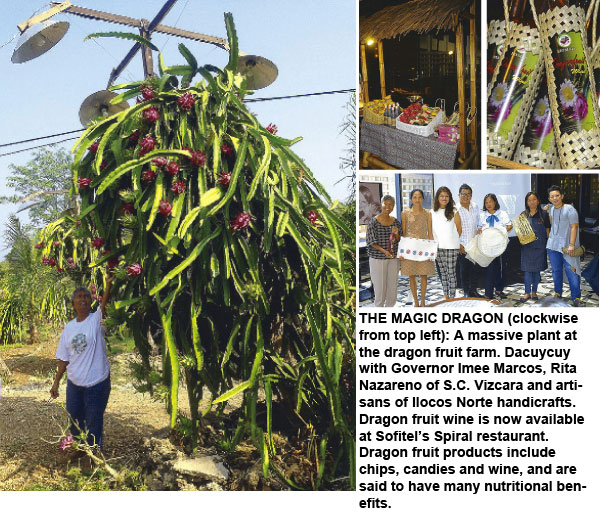 "We decided to grow the fruit in our backyard in 2005 after we saw its effect on Kate. It is easy to cultivate – it takes only about eight months to bear fruit – because it is a tropical fruit. And the lifetime of the plant is 50 years," she explains.
Eventually, they came to realize that they could not just keep their harvest to themselves because Kate was not the only one in need of the benefits of the dragon fruit.
"We decided to develop a one-hectare area in nearby Barangay Paayas, Burgos, Ilocos Norte in 2006. We distributed the fruit for free to Paayas residents. After that, we also distributed to the different barangays of Burgos because we wanted them to start and grow with us. Whatever we will generate, they will go hand in hand with us," Edita says.
They thought one hectare would be enough, until they were featured in an agriculture magazine.
"The turning point came when the late Dr. Pablico of the Department of Agriculture came and visited us. Since then, people have been coming here to ask about the dragon fruit and government agencies became more involved. It sort of became the center of studies and research," she says.
And, as they say, the rest is history. The farm grew, quite literally by leaps and bounds, and now covers 13 hectares.
"Though I grew up loving farming, I wasn't familiar with the technology involved in the dragon fruit business. We really tried hard to get the best education, including attending seminars and exhibits abroad," says Edita, a psychology graduate of the University of the Philippines-Diliman and a former manager of an insurance company.
She has reaped several awards for her efforts as a dragon fruit planter, foremost of which was a presidential citation in 2011 for being the most outstanding commercial crop farmer.
Edita sees the accolades as a challenge to create more awareness on the miracle fruit and to ensure that there is adequate supply.
Right now, Edita says the demand for dragon fruit is so huge that they can only meet about 10 percent of the total need.
Among other nutritional benefits, the dragon fruit is known to prevent the formation of cancer cells, relieves constipation, diabetes and rheumatism; improves memory, metabolism, tissue development, appetite, immune system and eyesight; reduces fat, hypertension and bad cholesterol; strengthens bone and tooth development; moisturizes and smoothens the skin and promotes healing of cuts and bruises.
"We are encouraging more growers. Our governor, Imee Marcos, is strongly supporting the industry and wants to make Ilocos Norte the dragon fruit capital of the Philippines," she says.
Edita dreams of expanding their business to neighboring provinces and exporting the 32 dragon fruit by-products – including chips, wine, candies and vegetables – to other countries.
The possibilities are endless with the powers of the wonder fruit and the dragon lady combined.