MANILA, Philippines - While other kids her age are learning to add, six-year-old Alrescha Mikaela Derilo Gabriana is doing Algebra.
But Alrescha, or Reese, is no ordinary child. She is a certified genius with an IQ of 143, way above the average of 100.
Giftedness runs in Reese's family. She is the only child of Bamm Gabriana and Rochelle Derilo, of Marikina City, who both have IQs above 135. They are all members of Mensa Philippines, the local chapter of Mensa International, a United Kingdom-based organization of people who belong to the top two percent of the world population in terms of IQ.
Rochelle admits that after giving birth to Reese, they were curious how she would turn out. "As Mensans, we were thinking – putting our genes together, what would happen?"
Rochelle says Reese had shown early signs of intelligence. "As soon as she started talking when she was almost two, her vocabulary was wide and she was talking about planets a lot," she says. Soon enough, the child could name all the planets, and identify them from the telescope.
Reese's interest in astronomy was apparently influenced by her parents who are both into space science. In fact, the first stone that she got hold of was a meteorite.
Her parents met through the University of the Philippines' Astronomical Society which Bamm helped found as a B.S. Mathematics student. Even after he graduated, he kept visiting the society and met Rochelle, who was then a B.S. Chemical Engineering student.
At present, Rochelle is an astronomy consultant in a mobile planetarium in Baguio City while Bamm teaches astronomy in Rizal Technological University.
Rochelle says there was a conscious effort for them to find out if Reese was also gifted so they could nurture whatever talent she may have.
"We were observing how she would react to people, to a situation," she says. "We're not basing it on the genes itself. We also look at the environment that she's in because we want to maximize her potentials."
Her parents realized that Reese was more comfortable interacting with older people. "She likes older kids. In fact, her best friend in school is already in Grade 6. She does not speak her age so I think she gets frustrated when kids her age do not understand her."
But the couple confirmed that Reese was gifted when the little girl accompanied her mother to Brunei in 2011 when she was astronomy consultant at a planetarium there.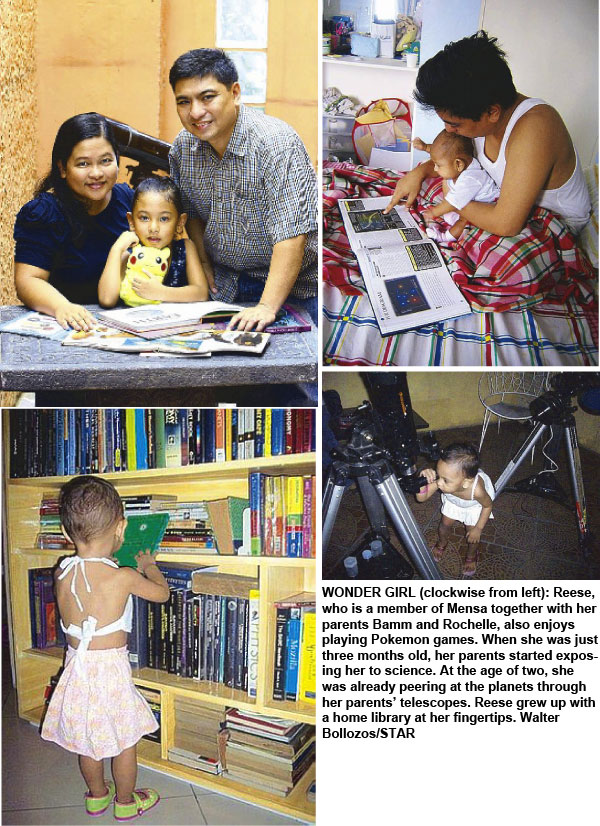 Reese was enrolled in a pre-school in Brunei but did not do well in school. The teacher thought she was delinquent.
"The teacher said she was not participating in class," Rochelle says. "When we asked her about it, she told us 'we already did that yesterday.' She just does not want lessons to be repeated."
Bamm said they realized that Reese could never join an ordinary class so they brought her back home.
"She would drift away if what was taught yesterday is taught again today. She gets bored," he points out. Reese is enrolled in Headway School of Giftedness in Quezon City where she will be in Grade 3 at the age of six.
Because Reese's mental capability is advanced, Bamm says they talk to her "in a logical and consistent manner. We allow her to speak out and reason with us. She can argue with us and if she makes a valid point, we concede and then we'll have a consensus… We don't want her to become timid," the father says.
"If you give her a rule and you explain the reasons behind it and you agree on that, she would follow it strictly. You cannot force her to do things without telling her the reasons why," he adds.
Reese behaves differently at home and in school, and this worries her mother.
Rochelle says that while Reese is affectionate with them, she is aggressive when she is in school. "Since she follows rules strictly, she also expects her classmates to be like her."
"She is one of the youngest in class but she tries to impose on her classmates. Like if the teacher tells them to turn to page 30, she'll look at her classmates' books and if there is someone whose book is not on that page, she would scold him," she says.
Based on Reese's score in the school's entrance examination, her mental ability was determined to be at 10 years old. Her parents thought they could apply for Mensa membership.
But she could not take the Mensa test because it had a minimum age of 14 years old. So she took the Wechsler Preschool and Primary Scale of Intelligence test instead and got a score of 143.
"This is equivalent to 146 in the Stanford-Binet scale and 169 in the Cattel scale. All three are equivalent to the 99.7th percentile under the Normal
Curve," Bamm says.
To enter Mensa, one must be in the top two percent of the world's population and Reese' score was in the top 0.3 percent. This means that for every 1,000 kids of the same age, her IQ is higher than 997 of them.
"At first, Mensa Philippines didn't know how to deal with the situation. However, they knew this is possible because the UK and US chapters have young members accepted by this approach," Bamm explains.
Mensa Philippines consulted the UK chapter regarding Reese's case and her application was approved in February 2013, making her the group's youngest member and paving the way for other gifted children below 14 years. 

"A few months after Reese was accepted, two more kids were
accepted into Mensa," Bamm adds.
Being a genius does not affect Reese who, just like other kids, loves to play. But she chooses games involving logic, like organized blocks and puzzles.
Bamm says his daughter is "hyperactive and she loves to dance, climb poles and do flips" so they plan to enroll her in a gymnastics class.
Currently, Reese is into Pokemon games and animé and this initially worried her parents. But eventually, they realized that she was learning from Pokemon.
"She learned how to strategize to complete a mission and if she is curious about a series of a particular Pokemon, she Googles it. She knows how to filter wrong information, but of course, we supervise her use of the Internet," he says.
Reese does not have a study habit and is more interested in ex-curricular activities, but her parents are not worried.
"She is only six years old. While other kids her age are still playing, she is now going to Grade 3. We don't want her to be burned out. We want her to enjoy her childhood," Bamm adds.