Floods hit Metro Manila anew
August 10, 2022 | 12:00am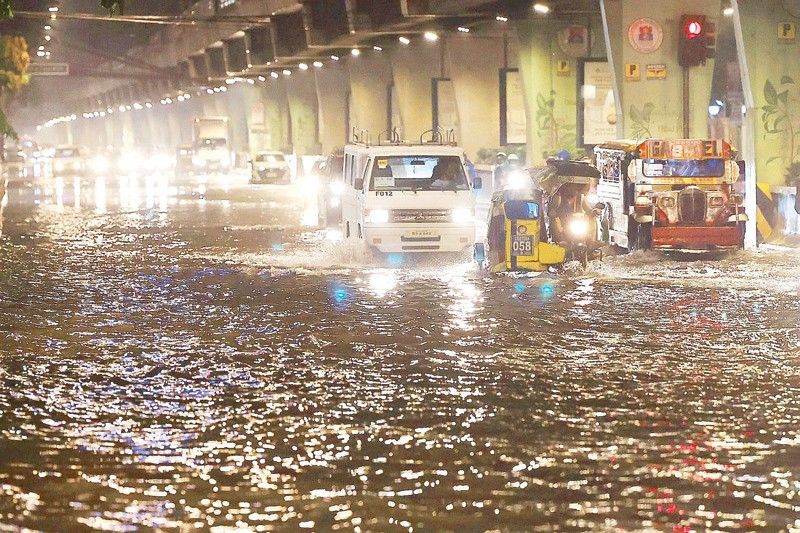 MANILA, Philippines — A heavy downpour flooded parts of Metro Manila on Monday night, four days after torrential rains caused floods and power outages in parts of Luzon including the capital region and the Visayas on Friday.
The rain caused gutter-deep flood as of 8:30 p.m. in the following areas, according to the city disaster risk reduction and management office: Finance Road corner Taft Avenue northbound, UN Avenue corner Taft northbound, Taft corner Quirino Avenue, Pedro Gil corner Taft southbound, V. Mapa corner Old Sta. Mesa, Magsaysay Boulevard and Taft-Padre Faura.
The flood in Manila, especially in Malate and Ermita, took time to subside because of the closure of three drainage outfalls – Padre Faura Drainage Main, Remedios Drainage and Estero de San Antonio de Abad – and the pending construction of pumping stations to expel water from these areas.
According to the Metropolitan Manila Development Authority (MMDA), the Department of Public Works and Highways has yet to finish the construction of the pumping station and pipe installation.
The excess water is discharged to the Pasig River and not to Manila Bay because of the need to treat floodwaters being discharged to the bay through a sewage treatment plant, as part of the Manila Bay rehabilitation program, according to MMDA flood control and sewage management office director Baltazar Melgar.
Dolomite beach link
Speaking to dzMM radio yesterday, Public Works Secretary Manuel Bonoan said the project is not yet finished because of the need to install longer pipes in order to divert floodwater and discharge it away from the artificial white sand dolomite project at the Manila Baywalk.
He said it is also part of the bay rehabilitation program to keep the dolomite beach clean.
Amid criticisms of being an artificial white beach project, the dolomite beach project is part of the Manila Bay rehabilitation efforts following a Supreme Court mandamus ordering government agencies to clean up the historic bay.
Monday night's downpour also caused flooding in the following areas of Caloocan, according to the city's disaster risk reduction and management office: 11th Avenue corner Rizal Avenue, 10th Avenue corner A. de Jesus, MacArthur Highway-Valenzuela boundary, EDSA Balintawak southbound-Quezon City boundary and 10th Avenue corner B. Serrano.
It also caused flood in parts of Valenzuela, such as portions of MacArthur Highway, the Dalandanan market and Arkong Bato, among others.