Vessel catches fire off Quezon; 7 dead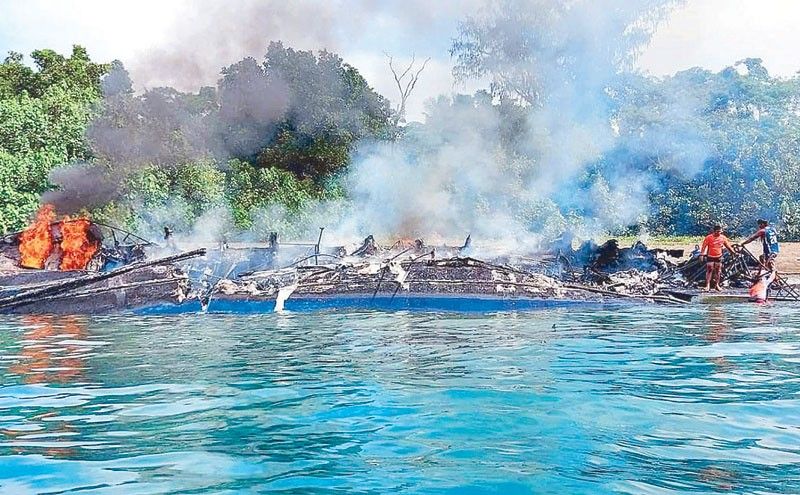 MANILA, Philippines — Seven persons died while 24 others were injured when a passenger vessel with 134 people on board caught fire in the waters off Real in Quezon province yesterday morning.
The Philippine Coast Guard (PCG) identified the fatalities as Edna Balanac, 64; Crisanto Debelles, 51; Mina Enciso, 57; Charito Escareces, 57; Viola Impreso, 47; Marivic Samareta, 61, and Andy Tejares, 54.
All 126 passengers and eight crewmembers of the MV Mercraft 2 were accounted for, according to PCG spokesman Commodore Armand Balilo.
Among those injured was the Mercraft's master Capt. John Lerry Escareces, who was taken to the Claro M. Recto Hospital along with 23 others for treatment.
Initial reports said the Mercraft 2 was approaching the Port of Real from Polilio Islands when it caught fire at around 5 a.m.
The blaze reportedly originated from the engine room.
The fire was declared under control at around 9:33 a.m.
The flames spread quickly, forcing some passengers and crewmembers to jump overboard and swim to the shore.
The PCG received a distress call at around 6:30 a.m. It immediately dispatched search and rescue teams to assist the passengers and crewmembers.
Two roll-on roll-off vessels and four motorboats helped in the rescue operation.
The Mercraft 2 was towed to the shores of Baluti Island in Barangay Cawayan in Real by the MV Triple Kent.
The PCG said the Mercraft 2, a fast craft made of fiberglass, has a carrying capacity of 186 people.
No oil spill has been reported as a result of the incident. – Arnell Ozaeta