DENR: Manila beach nourishment done by October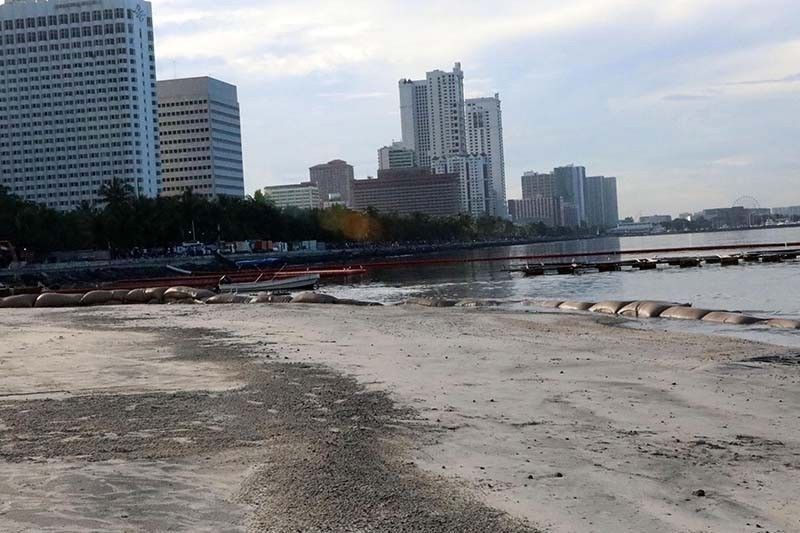 MANILA, Philippines — The controversial beach nourishment project for Manila Bay is set to be completed by October, an official said yesterday.
Jonas Leones, Department of Environment and Natural Resources undersecretary for policy, planning and international affairs, said there is no need to allocate a yearly budget for the project since it is almost finished, and that there will be no more available sources of dolomite.
The DENR earlier said that the crushed dolomite was sourced from a mine in Cebu.
Leones said the project has long been delayed because of issues concerning dolomite supply as well as due to the pandemic that restricted the movement of workers.
"The current health situation because of COVID-19 made it hard for workers to go out and report for work," he added.
Leones also said the crushed dolomite will not be easily washed out by heavy rains, given the "geo-interventions" placed in the area.
According to an assessment by the DENR following heavy rains brought by the southwest monsoon and Typhoon Fabian several days ago, the geotubes and geotextiles installed to protect the beach are all intact.
"The dolomite sand has not been washed out and the dolomite pebbles were only pushed to the perimeter of the beach area," the DENR said.
The P389-million beach nourishment project forms part of the Manila Bay rehabilitation program. It has received flak from the public because of its timing during the pandemic and alleged health risks.
The DENR however, defended the use of synthetic white sand as part of the rehabilitation program, saying it would help nourish Manila Bay.