Metro Manila bike lane network opens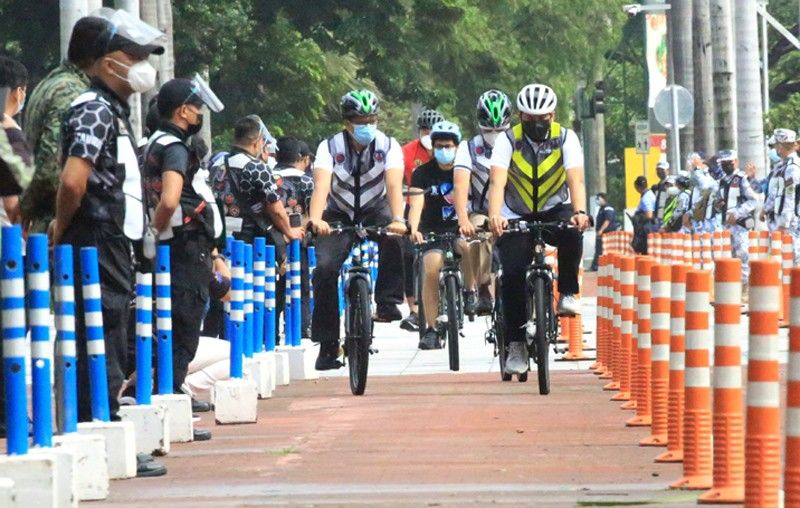 MANILA, Philippines — The Department of Transportation (DOTr) yesterday opened the P801.83-million bicycle lane network in Metro Manila, the last portion of the 497-kilometer nationwide bike lane network constructed together with the Department of Public Works and Highways (DPWH).
"Today marks the end of the long wait of cyclists for safe and quality bike lanes here in Metro Manila because we are formally inaugurating the third leg of the completed 497 kilometers of bike lane networks established in key major cities in the country," DOTr Secretary Arthur Tugade said in a message read by Assistant Secretary for road transport and infrastructure Mark Steven Pastor during the inauguration.
The Metro Manila bike lane network has a length of 313 km, stretching across nine major road sections and 12 cities.
"With the completion of the bike lanes, cyclists are provided with safe spaces on the road as they pedal to work and to other places," Tugade said.
"It is also important to note that these bike lanes here in Metro Manila make medical communities accessible to our frontliners," he added.
The construction of the 497-km bike lane network in Metro Manila, Metro Davao and Metro Cebu was completed last month.
The 129-km Metro Cebu bike lanes were inaugurated by the DOTr and DPWH last July 16 while the 54.71-km Metro Davao bike lanes were officially opened on July 20.
The bike lane networks feature white and green pavement markings, signage, bollards, bike symbols, solar studs and concrete delineators to ensure the safety of cyclists as well as bike racks for their comfort and convenience.
The development of bike lanes in metropolitan cities aims to increase accessibility to key activity areas and fundamental facilities, significantly lessen carbon emission and promote road safety, officials said.
Under the Bayanihan to Recover as One Act, the promotion of active transportation was strengthened by the declaration of the bicycle as an additional mode of transportation and the provision of funding to support the establishment of bike lane networks.