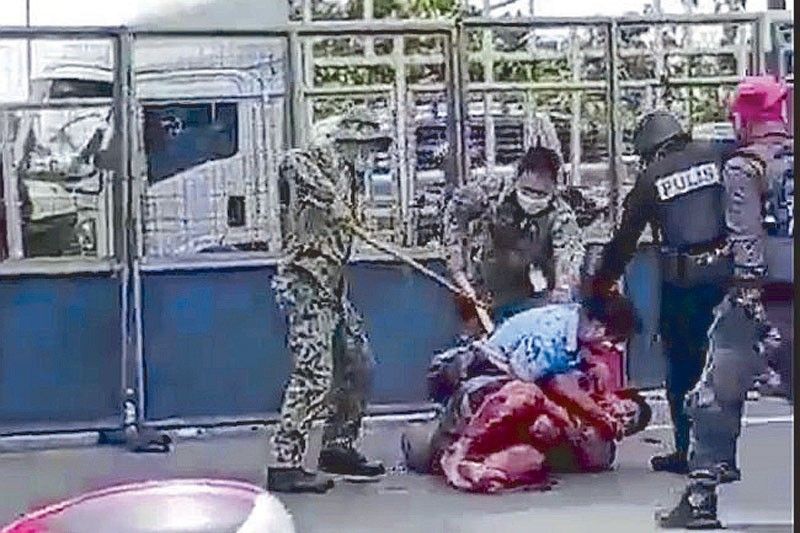 Businessman Abraham Tan brandishes a knife at police officers along Commonwealth Avenue in Quezon City yesterda
Facebook Live video by ALanj Obra
Trader, employee nabbed for stabbing
MANILA, Philippines — A businessman and his employee were arrested after they allegedly stabbed two persons in Quezon City yesterday, an incident that was caught in a viral video.
Abraham Tan, 37, and his employee, Rogelio Farcon, 41, were apprehended along Commonwealth Avenue in Barangay North Fairview at around 11:45 a.m. following a tense standoff with police officers.
Tan stabbed Raymund Matabang, a contractor, and Matabang's driver, Vickson Villaroman, 20, according to a police report.
The stabbing happened inside Matabang's vehicle. They were on their way to a bank in North Fairview when Tan suddenly took out a knife and stabbed the victims, police said.
Probers said Tan owed Matabang P2 million and they were on their way to the bank to make a deposit.
Tan and Farcon tried to escape but were cornered by police officers.
A video of the incident posted on Facebook showed Tan attempting to stab Special Weapons and Tactics officers who responded to the incident. The lawmen convinced the suspect to surrender.
The suspects were brought to the Fairview police station for investigation.