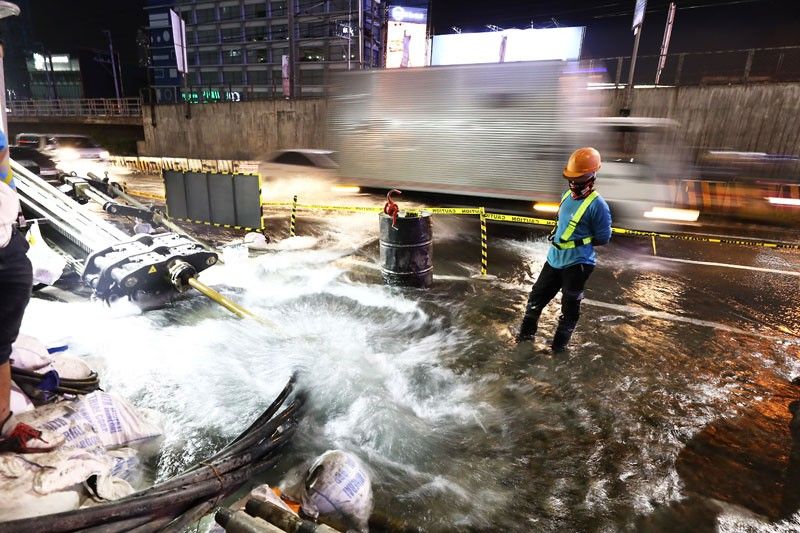 Motorists drive through gutter-deep flood while MMDA workers try to fix a busted pipe along EDSA Pioneer in Mandaluyong City after a drilling machine at a construction area accidentally broke through an underground pipe which spewed large quantities of water on Sunday night.
Miguel De Guzman
MWSS to probe EDSA pipe leak
MANILA, Philippines — The regulatory office of the Metropolitan Waterworks and Sewerage System (MWSS-RO) will investigate the circumstances involving a damaged pipe along EDSA to ensure that costs incurred for its repair are not passed on to consumers, an official said yesterday.
"I'm planning that once the repairs are finished and the pipes are energized, we will will conduct an investigation to ensure that the one liable for the incident will account for it," MWSS-RO chief regulator Patrick Lester Ty said in a radio interview.
Manila Water reported earlier that its 600-millimeter mainline was damaged on April 11, resulting in water service interruptions to more than 30 barangays in Mandaluyong, Pasig, San Juan and Quezon cities.
"The breakage was caused by AWIN Technology, a third-party contractor doing CCTV network installation," Manila Water said.
Manila Water said that since last year, AWIN Technology damaged water pipes at six different sites in the East Zone, with the latest incident being the second for this year.
"Manila Water is coordinating with the contracting agency for sanctions and indemnities to be charged to their contractor, as well as to work together to avoid these incidents from happening again," Manila Water said.
On Monday, the east zone concessionaire began permanent repairs on the damaged mainline, which resulted in service interruptions to thousands of consumers in barangays in Mandaluyong, San Juan, Quezon City and Pasig.
Manila Water serves the east zone, which encompasses parts of Makati, Mandaluyong, Pasig, Pateros, San Juan, Taguig, Marikina, most parts of Quezon City, portions of Manila as well as several towns in Rizal.