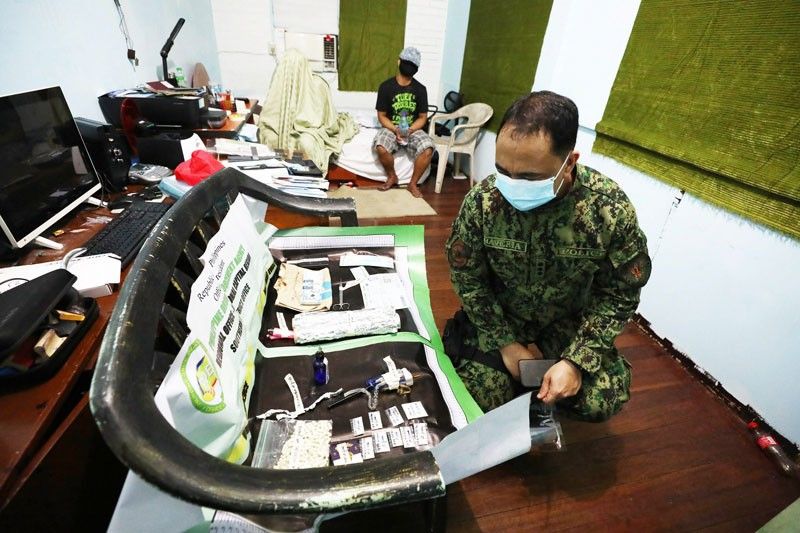 Pateros police chief Col. Ramchrisen Haveria inspects ecstasy pills, shabu, card cloning devices and bank statements of possible victims confiscated from Stephen Yap Jao and Allen Custodio during a sting in Barangay San Roque on Friday night.
Miguel De Guzman
2 nabbed for drugs, credit card fraud
MANILA, Philippines — Two men were arrested after they were caught with over P300,000 worth of illegal drugs and machines used in credit card fraud in Pateros on Friday night.
Stephen Yap Jao, 42, and Allen Custodio, 28, were apprehended during a sting staged by Philippine Drug Enforcement Agency operatives and police officers from the National Capital Region Police Office, Southern Police District and municipal police along Hermosa street in Barangay San Roque at around 7 p.m., according to PDEA's Metro Manila unit chief Adrian Alvarino.
Lawmen seized around 20 grams of methamphetamine hydrochloride valued at P130,000, 160 ecstasy tablets with a street value of P200,000, a weighing scale, drug paraphernalia and devices used to clone debit and credit cards, Alvarino said.
In Quezon City, around 15 grams of shabu valued at P102,000 were confiscated from nine persons in a sting in Barangay Sta. Monica on Friday night.
Brig. Gen. Danilo Macerin, Quezon City Police District director, said 10 grams of mairjuana with a street value of P1,200, a cell phone, a weighing scale and assorted drug paraphernalia were taken from Jonathan Baldano, 24; Reymart Peregrino, 30; Jerome Alcos, 30; Kyle Lopez, 22; Gelo de Salva, 20; Jim Oliva, 23; Ronald Encong, 46; Carlito Garay, 43, and Rachel Belarmino, 20.
Macerin said they got a tip from an informant that the suspects were selling illegal drugs in their community.
Also in Quezon City, Nash Robert, 39; Boy Pascual, 52; Marlon Roxas, 31, and Jonathan Palacio, 32, were arrested and held on charges of drug trafficking after 5.05 grams of shabu valued at P34,400 were confiscated from them.
In Marikina, Moises Ogsimer, 27, was caught in a sting in Barangay Marikina Heights on Friday night, said Eastern Police District director Brig. Gen. Matthew Baccay, adding that five grams of shabu with a street value of P34,000 and drug paraphernalia were seized from him.
In San Juan, Darrygold Nueva, 29, and Mariano Flores, 54, were arrested in a sting in Barangay West Crame on Friday. They yielded .17 grams of shabu valued at P1,156.