Manila bans gender discrimination
October 30, 2020 | 12:00am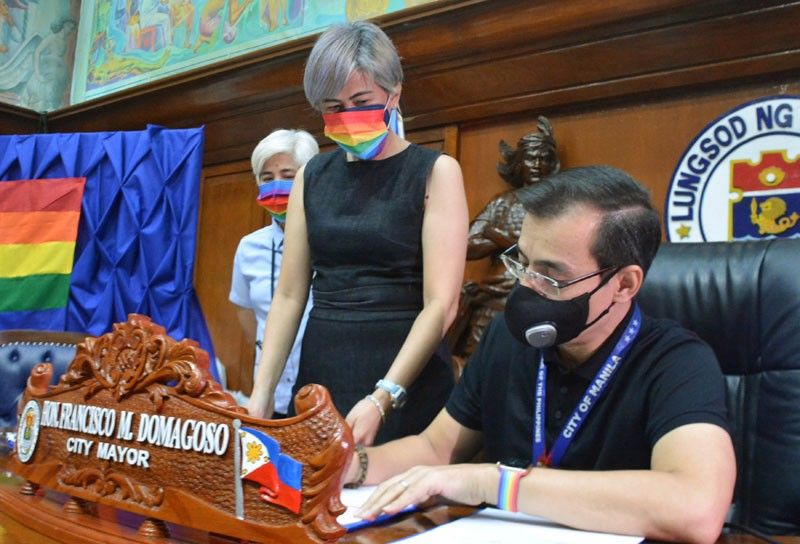 MANILA, Philippines — The Manila city government yesterday approved an ordinance that penalizes discrimination against lesbians, gays, transgenders, queers and intersex or LGBTQI.
Mayor Isko Moreno signed Ordinance 8695 or the Manila LGBTQI Protection Ordinance of 2020.
The ordinance bans discrimination based on a person's sexual orientation and gender identity expression (SOGIE).
It defined discrimination as any "distinction, exclusion, restriction, or other differential treatment that is directly or indirectly based on SOGIE, which has the intention or effect of nullifying or impairing the recognition, enjoyment or exercise on an equal footing of political, civil, economic, social and cultural rights."
"Everybody should be treated equally, respected, understood and be shown compassion," Moreno said. "In Manila, there are no poor, no middle class, no rich, no gays, no man and no woman. We are all equal here. We will not allow discrimination."
Moreno said he recognized the contributions of the LGBTQI community in the arts, business and government.
"There will be long, painstaking processes that we need to achieve, but the very least that we can do for you is that our local government be with you," he said.
Manila joined Quezon City and a few other cities in the country with such anti-discrimination laws.
No classes tomorrow
Meanwhile, classes at all levels in public and private schools in Manila are suspended tomorrow ahead of the observance of Undas.
Moreno suspended classes to allow students to spend time with their families "since they cannot go to cemeteries."
The Manila North and South Cemeteries are closed until Nov. 5 as part of quarantine protocols to prevent the transmission of COVID-19.
Crematory and funeral services will continue during the closure of cemeteries, Moreno said.
He also ordered the Office of the Senior Citizens Affairs to speed up the distribution of financial assistance to the elderly.
"They need money for their maintenance medicines. Most likely their children who are working are not earning enough," the mayor said.
According to Moreno, senior citizens are important members of society who need to be taken care of.
"I want an efficient system, they deserve much attention. We, young individuals, should show our gratitude to them," Moreno said.
Of the 144,000 registered senior citizens in Manila, 83,210 have received their IDs, which they can use as debit cards. – Marc Jayson Cayabyab