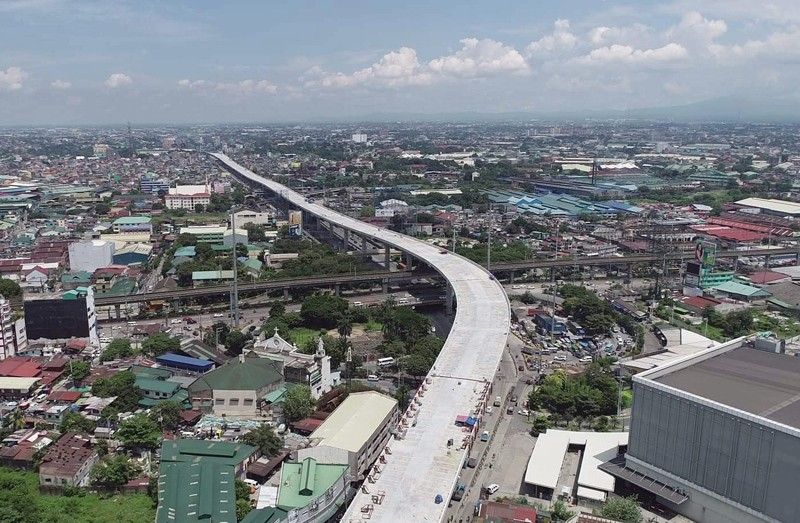 The Skyway Stage 3 section in Quezon City connects the North Luzon Expressway with the rest of the Skyway system and the South Luzon Expressway. Image courtesy of the Department of Public Works and Highways.
STAR/File
DPWH, SMC: Skyway Stage 3 completed
MANILA, Philippines — The construction of the entire 18-kilometer Skyway Stage 3 project, which would link the northern and southern portions of Metro Manila, has been completed, Department of Public Works and Highways (DPWH) Secretary Mark Villar said yesterday.
"From the onset of his administration, President Duterte has worked to decongest EDSA. The completion of the girder construction of Skyway Stage 3 shows the President's political will to connect every city in Metro Manila within a 30-minute frame," Villar said.
"Skyway Stage 3 is just one of 23 projects aimed at decongesting EDSA," he added.
Other projects include the North Luzon Expressway Harbor Link, BGC-Ortigas Link Bridge, NLEX-South Luzon Expressway (SLEX) Connector, Pantaleon Estrella Bridge, Binondo Intramuros Bridge, Lawton Avenue, Katipunan Extension and the Laguna Lake Expressway, among others.
"When Skyway Stage 3 is opened, travel time from SLEX to NLEX will be reduced from two hours to only 30 minutes. Makati to Quezon City will only be 20 minutes away," Villar said.
"Before 2022 ends, travel time from (Ninoy Aquino International Airport) to Balintawak will only be 20 minutes," he added.
Not open yet
San Miguel Corp. (SMC) president and chief operating officer Ramon Ang said the project was completed ahead of the Oct. 31 schedule the company earlier announced, following delays due to the COVID-19 pandemic.
However, the expressway cannot be opened to the public just yet as finishing works have been delayed by continuous and heavy rains, he said.
"After many challenges this project faced in previous years, the dream of connecting north and south and providing an alternative to EDSA is now a reality," Ang said.
He said they just have to wait for the weather to improve "so we can make sure that the asphalt will cure properly. That and a few more finishing touches are all that's needed, and then we can open soon."