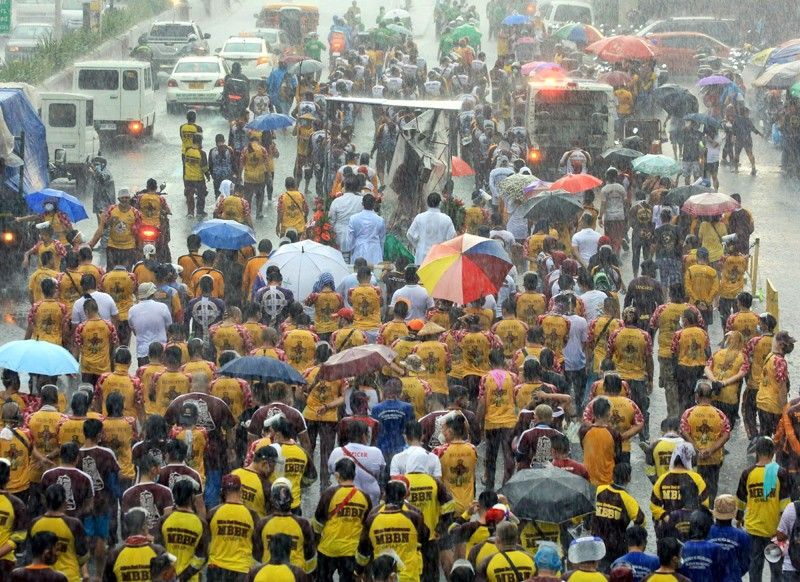 Devotees join a procession featuring the image of the Black Nazarene in Quiapo, Manila on Monday.
Edd Gumban
PNP investigates Nazarene procession
MANILA, Philippines — The Philippine National Police (PNP) yesterday ordered a probe on the procession of the Black Nazarene in Quiapo, Manila on Monday for possible violation of quarantine protocols.
PNP deputy chief for administration Lt. Gen. Guillermo Eleazar has tasked Manila Police District director Brig. Gen. Rolando Miranda to look into the incident, which drew hundreds of devotees.
He said they will also ask representatives from the Minor Basilica of the Black Nazarene about the incident.
In an interview over radio dzBB, Eleazar said there will be "appropriate action" if violations are found.
Devotees joined the one-hour procession that began at around 1 p.m. despite heavy rains. The Black Nazarene was paraded along the streets of Evangelista, Raon, Hidalgo and Mendoza as well as Quezon Boulevard and Quinta Market.
Church officials said the purpose of the procession is to give hope to people who have suffered because of the COVID-19 pandemic.
Eleazar said police officials "discouraged" representatives of Quiapo Church from holding the procession as mass gathering is banned under a community quarantine.
While the organizers may have good intentions, Eleazar said they should always ensure that minimum health standards and other quarantine measures are strictly observed.
"We expect the cooperation of all sectors," he said.