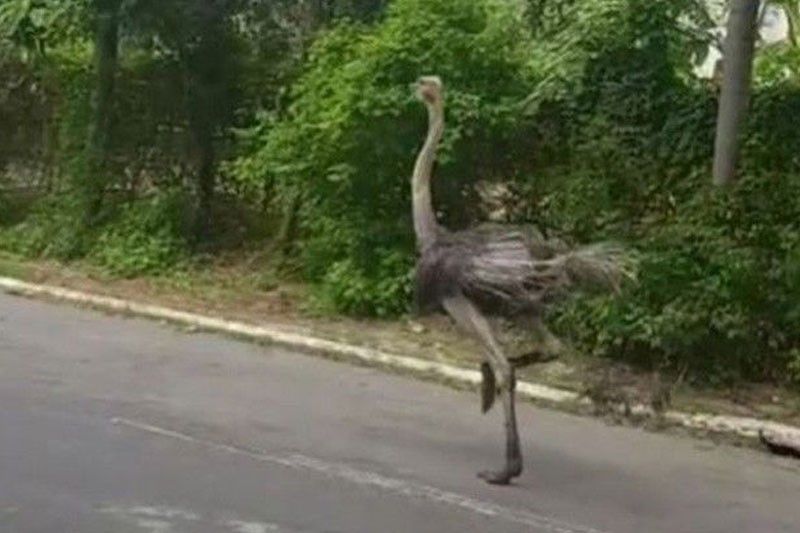 Ostrich in Quezon City dies of stress – DENR
MANILA, Philippines — One of two ostriches that were seen running loose in a Quezon City subdivision recently allegedly died of stress, a Department of Environment and Natural Resources (DENR) official said yesterday.
Jonathan Cruz, who owns the ostriches, brought the remaining one to the Wildlife Rescue Center of the DENR's Biodiversity Management Bureau (BMB) on Friday afternoon, according to Undersecretary Benny Antiporda.
"Mr. Cruz, however, claimed that the second ostrich died due to extreme stress. But we will still have to check on this – if the ostrich really died and the cause of death," Antiporda said.
He added that a technical conference will be held tomorrow to investigate the incident and Cruz has been invited to the meeting to "give him a chance to explain."
"It seems though there are many questions that need to be answered, such as why the ostriches were seen roaming around Mapayapa Village in Barangay Pasong Tamo though the address of the owner is in Balingasa, Quezon City," Antiporda said.
He said the DENR will investigate why the ostriches were taken to Quezon City when the permit to transport issued to Cruz showed the birds, which originated from Misamis Oriental, were supposed to be brought to Nueva Ecija.
"The owner was also not able to show a permit that he is allowed to take in ostriches in his backyard or compound," Antiporda said.
BMB personnel earlier went to Mapayapa Village 3 subdivision, where the ostriches were seen, but were denied access by security guards.