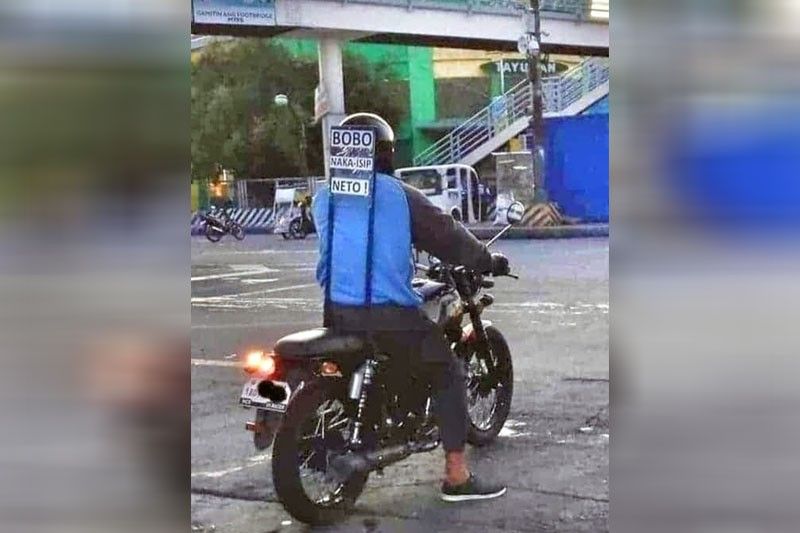 A motorcycle rider is seen at a traffic stop in Manila with a barrier for backriders in a photo posted by automotive journalist James Deakin on Facebook on July 29.
STAR/File
23 motorcyclists held for breaking barrier rule
MANILA, Philippines — At least 23 motorcycle owners were apprehended yesterday, the first day of the government's strict implementation of the no physical barriers, no backride policy.
Police officers of the Highway Patrol Group (HPG) issued violators in various parts of Metro Manila citation tickets with a corresponding fine of P1,000.
Col. Wilson Doromal, HPG National Capital Region field office director, said some of the violators have physical barriers but these were not the designs of the Bohol provincial government and motorcycle ride-hailing company Angkas approved by the government as protection against coronavirus disease 2019 or COVID-19.
"The others said they have purchased one but it had not arrived yet," he said in Filipino in a phone interview.
Doromal said they are strict with their enforcement as the PNP gave motorcycle owners three weeks to comply with the directive.
The motorcycle riders were accosted during law enforcement operations in different areas of Metro Manila such as Quezon City, Manila, Pasig and Pasay.
The government has allowed couples to use motorcycles because of the lack of public transportation, provided they will install the barriers.
PNP deputy chief for operations Lt. Gen. Guillermo Eleazar urged motorbike riders not to have back-riders if they don't want to install physical barriers on their vehicles.