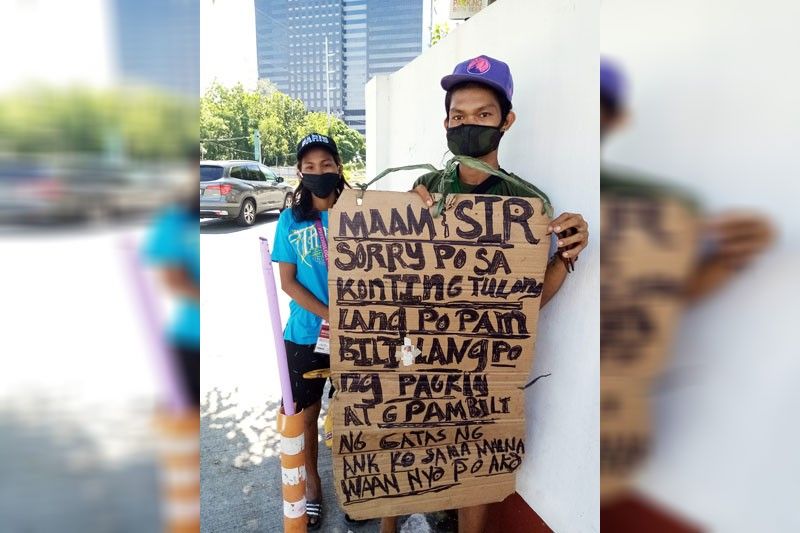 Larry Lim and his wife beg for money from motorists in Taguig City.
Ralph Edwin Villanueva
Scrap collector, laborers turn to begging after losing jobs
MANILA, Philippines — For the past month, scrap collector Larry Lim has been standing at the corner of Bayani Road and Lawton Avenue in Taguig, looking for good Samaritans who would give money for him and his family.
Lim and his wife, who recently gave birth, have been living on the street since 2017. But they have had to beg for money since the lockdown was imposed in March.
Lim, 28, has been scavenging for items he can sell to junk shops. However, junk shops have not been allowed to operate since the enhanced community quarantine was implemented in March.
"It's very hard to live. We are just asking for money and food. There are no junk shops to sell to, so we could not eat properly," he said in Filipino.
Lim said he does not get enough money from begging, but continues to stay on the street for his newborn child.
Jeffrey Navarro, a native of Cebu, lives with Lim and his family on the street near a bank. Beside them are scraps they have collected since March, which they said they would sell once junk shops reopen.
Navarro said he also begs for money from motorists passing through Lawton Avenue and helps clients park their car in front of the bank in exchange for a few pesos.
Navarro, a construction worker who lost his job when construction projects were suspended during the lockdown, said he only eats three to five times a week – if he's lucky.
"A lot has changed since the coronavirus hit the world. Before, I could eat twice a day. Now I cannot," Navarro told The STAR.
Navarro said he has not received government aid since March because he is not registered in Taguig.
The national government and local government units have initiated cash assistance programs for residents affected by the lockdown.
Another construction worker who lost his job is Vicente Daet, who has opted to sell bottled water, candies and cigarettes to pedestrians and motorists along Upper McKinley Road, where vendors are not allowed.
"I would rather sell goods than to beg for money. I have to feed my family," he said in Filipino.
Daet has been jobless since March after the Chinese firm he works for shut down.
He said the money he sends to his family in Iloilo is not enough and that his three children – the eldest is in college – would be forced to drop out of school.
"I am doing what I can for my family to survive," Daet said, adding that he received only 10 kilos of rice from his Chinese employers, who told him, "the government would give assistance, anyway."
The workers said they hope that the pandemic would be over soon.
"I am tired of the uncertainty. I want things to be back to the way it was, so we can all live better," Lim said.