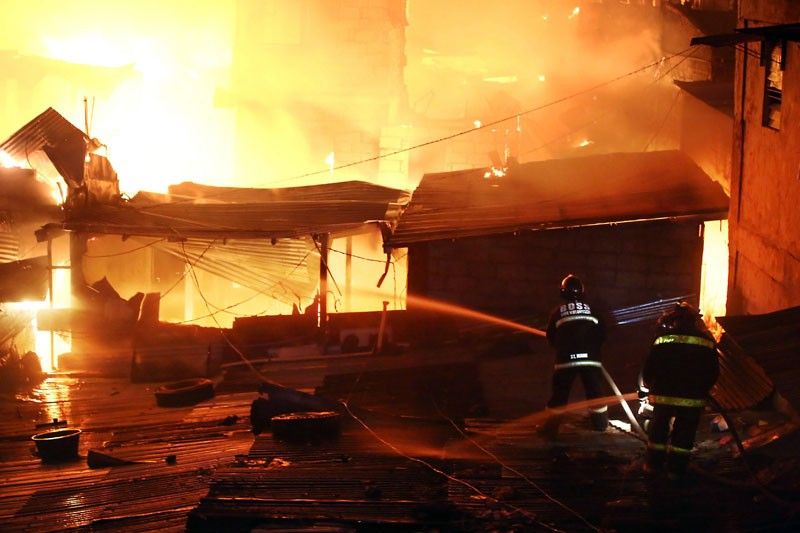 Firefighters train a hose on a fire that razed Barangay Addition Hills in Mandaluyong City on Monday night. Inset shows some of the more than 1,000 families who lost their homes in the fire lining up for food rations at the Addition Hills Integrated School yesterday morning.
Miguel De Guzman and Michael Varcas
Man held for arson in Addition Hills fire
MANILA, Philippines — A man was arrested for allegedly causing a fire that left over 1,000 families in Barangay Addition Hills, Mandaluyong City homeless on Monday.
Francis Santos, 30, was seen by a neighbor setting fire to a tarpaulin in his unit on the second floor of a residential building just before the incident.
The fire was reported at about 5:31 p.m. at Block 37 Fabella street and reached Task Force Bravo at around 6:50 p.m., according to the Bureau of Fire Protection (BFP).
The fire reached general alarm, the highest alert level that means flames have spread to most of the barangay, two hours later.
The BFP reported that the fire originated in Santos' unit.
Mandaluyong police said Santos tried to flee but residents gave chase and caught him. He is currently detained at the city police headquarters and faces a charge of arson.
Neighbors tried but failed to put out the flames, which spread quickly due to the proximity of the houses made of light materials, the BFP said.
It took 55 fire truck crews and about seven hours before the fire was put out after midnight yesterday.
Fire inspectors said while there were no fatalities, five adults and a minor were among those who sustained minor injuries.
The fire gutted at least 800 houses and establishments and destroyed around P2 million worth of property.
Barangay officials said panic among residents prompted a major disregard of social distancing while the fire was raging and they were worried that a local transmission of the virus at the site may occur in a few days.
Addition Hills has 124 of 690 recorded cases of coronavirus disease 2019 in Mandaluyong as of June 1. Of the 690 COVID-19 cases, there were 56 deaths and 292 recoveries.
The escalation of cases in the barangay forced the city government to place the community under lockdown last month.
The city government has sheltered those affected in evacuation tents and vowed to extend aid.