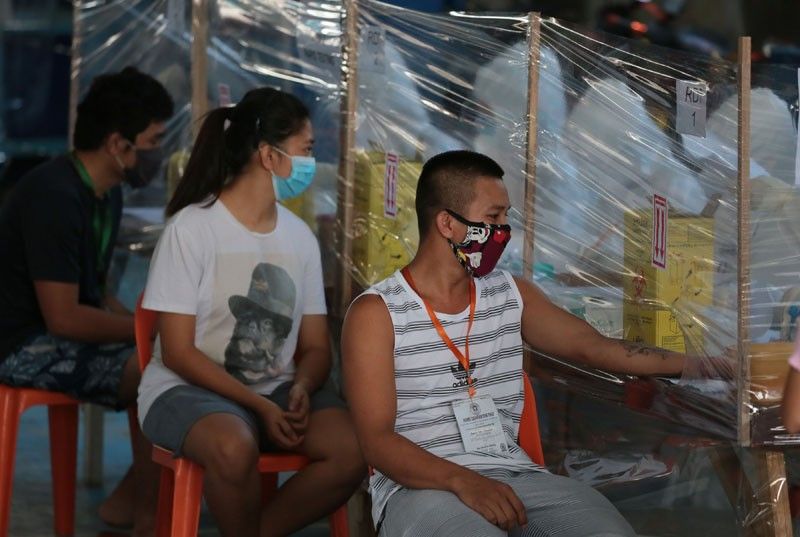 Rapid testing for COVID-19 being conducted at Barangay Bahay Toro in Quezon City on May 22, 2020.
The STAR/Michael Varcas
Concepcion commends Belmonte for mitigating COVID-19 cases in Quezon City
(Philstar.com) - May 28, 2020 - 3:45pm
MANILA, Philippines (As released) — Presidential Adviser for Entrepreneurship and Go Negosyo founder Joey Concepcion lauded Quezon City Mayor Joy Belmonte for the city's plan to mitigate the spread of COVID-19.
Announcing the completion of a total of 4,141 rapid tests from Project ARK, which stands for "Antibody Rapid Test Kits," in Quezon City, Concepcion thanked the mayor for the efforts that contributed to recoveries and slowdown of the contagion.
"When I saw the results this morning, I was happy to see that the city has really progressed to see a lot of IgG positive which means these people have recovered from the virus and that number is quite big. It's a great accomplishment for Quezon City," Concepcion said.
"Out of the 4,141 successful tests conducted, only 20 persons were deemed IgM positive. 642 were IgG positive which means they've had the virus and were able to recover and build antibodies. Convalescent plasma can be a potential therapy for COVID-19," he added.
"Moreover, 137 tested IgG/IgM positive, and 30 were symptomatic. A total of 186 people were immediately directed to the appropriate hospital facilities for a complimentary RT-PCR swab testing," Concepcion continued.
He also noted the efforts of both the government and the private sector, saying they are focused on saving lives and livelihoods.
"The only way we can open the economy safely is to create greater visibility. Creating visibility is to do a lot of testing. Targeted mass testing is our approach, whether we use RT-PCR or rapid test kits, whatever testing methods are available out there that give us good visibility is what we have to do," Concepcion said.
Dr. Minguita Padilla, Project ARK Medical team leader, also praised Belmonte. "I want to congratulate Mayor Joy Belmonte. This is a very good balance between health and the economy. I think it's quite clear that they've thought about many things to make it possible to start the economy while thinking about the health of the people of Quezon City."
"Even from a medical standpoint, I was listening intently to what you are saying. It was very sound kaya sana mas maraming katulad 'nyo sa gagawin for the GCQ," Padilla added.
Belmonte also expressed her gratitude to Project ARK. "We are great believers in testing and in fact we have already established six community-based testing facilities. When this project was brought up, I was really excited. We're advised that rapid testing is always done in conjunction with the PCR test. I always believe that rapid test is a really good way for us to gauge and screen who should we administer the PCR test given that these tests are expensive so we embrace this project wholeheartedly."
Project ARK led by Concepcion cooperates with different private companies and business conglomerates in the country that aim to ramp up both rapid and RT-PCR testing in the country.
With the data collected from these efforts, the government and different industries can gain better visibility of the enemy and develop better strategies to combat the virus.
Barangay implementation is part of Project ARK's bayanihan initiative. In addition to supporting the screening of employees to ensure safety at work, Project ARK encourages companies to lead the voluntary testing of barangay citizens.
Participating at the virtual presser were Quezon City Association of Filipino Chinese Businessmen Inc. President and FFCCCII Director Joseph Lim Bon Huan and Founder and Chairman Emeritus of Wilcon Depot William Belo, who were also among the donors for Quezon City. ARK Project Lead Josephine Romero, Project Pilot Lead for LGU Ginggay Hontiveros-Malvar, Joseph Juico, Project Coordinator for Community Based Testing of QC, and Dr. Rolando Cruz, Head of QC CESU City Epidemiologist/Surveillance Officer were also present.
The test kits were donated by private sector partners GT Capital, Wilcon Depot, RFM Corporation, and the Federation of Filipino Chinese Chambers of Commerce & Industry Inc (FFCCCII).
As of date, Project ARK has generated more than 1.2 million rapid test kits from close to 300 companies.
Project ARK has also conducted close to 30,000 tests with the LGUs of Pasig, Taguig, Quezon City, Makati, and Antipolo to bring mass testing down to the community level. — As released
Disclosure: Quezon City Mayor Joy Belmonte is a shareholder of Philstar Global Corp., which operates digital news outlet Philstar.com.