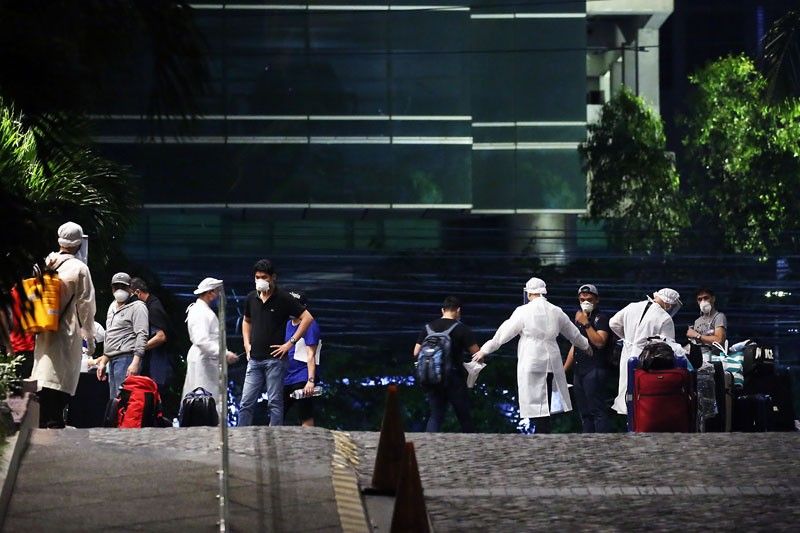 A total of 468 OFWs, 129 of them seafarers, arrived in the province on Monday.
Miguel de Guzman
Returning Negros OFWs to be tested again for COVID
MANILA, Philippines — All overseas Filipino workers (OFWs) returning to Negros Occidental will be tested for coronavirus disease 2019 even though they were declared COVID-free in Manila.
Gov. Eugenio Jose Lacson said these OFWs would be sent home only if swab test showed they are negative for the virus.
A total of 468 OFWs, 129 of them seafarers, arrived in the province on Monday.
Lacson said local government units should prepare their own quarantine facilities for returning OFWs.
He said four seafarers were quarantined in EB Magalona and Bacolod City after they tested positive for COVID-19.
Bacolod City Mayor Evelio Leonardia said rooms in hotels, inns and pension houses should be made available for returning OFWs, noting that about 1,000 of them are expected to arrive in the city.
Zamboanga City Mayor Maria Isabelle Climaco-Salazar said all returning OFWs and residents who completed the health protocols in the areas where they were stranded would still be quarantined upon their arrival in the city.
"We want to make sure they were not exposed on their way here," Salazar said.
At least 132 OFWs arrived in the city on Monday.
Cagayan Gov. Manuel Mamba said returning OFWs who were found negative of the virus during their stay in Manila would not be quarantined.
In Maguindanao, 11 students who returned from Cebu were infected, the provincial health office said.
The Overseas Workers Welfare Administration-Northern Mindanao office said 333 OFWs arrived on two AirAsia flights at the Laguindingan airport on Monday.
In Nueva Ecija, the municipal government of General Tinio said it prepared additional quarantine facilities for returning residents. Roel Pareño, Gerry Lee Gorit, Raymund Catindig, John Unson, Ric Sapnu