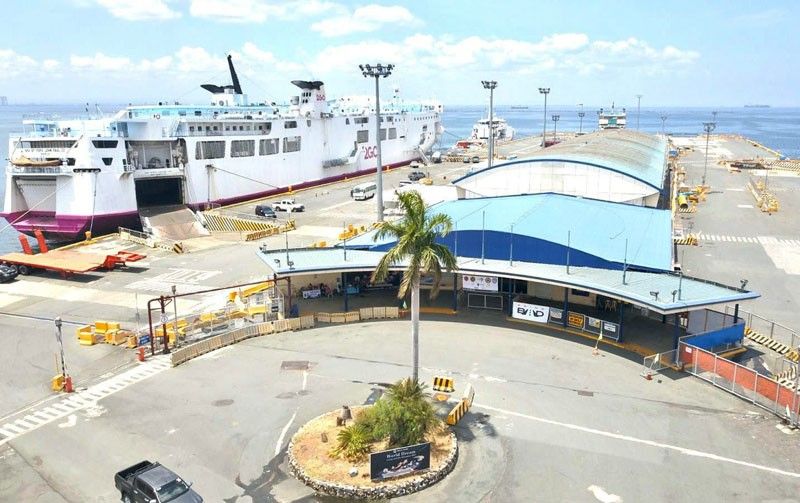 The Eva Macapagal Super Terminal reopens as a COVID-19 treatment facility yesterday. Docked near the terminal is one of two ferries converted into quarantine vessels.
KJ Rosales
COVID care facility opens in Manila
MANILA, Philippines — A facility for coronavirus disease 2019 (COVID-19) patients opened yesterday at Pier 15 in Manila.
The Philippine Coast Guard (PCG) said the Eva Macapagal Super Terminal, which was converted into a COVID care facility, is ready to accept patients with mild, advanced and severe symptoms of the infection.
In a statement, the PCG said the facility has a total of 211 cubicles with hospital beds, portable toilets, cargo containers for showers and open-air dining facilities.
"Nurses' stations will also be set up outside, with plastic barrier views of the inside to minimize the use of personal protective equipment," the PCG said.
The PCG said the facility contains airtight doors to prevent aerosols containing the COVID-19 from spreading, but the interior layout remains open "to allow a conducive space for the healing of patients."
The PCG said that its health and safety personnel will provide medical treatment to patients brought to the facility by the Department of Health.
The opening of the facility is an effort to contain the disease along with the creation of "quarantine ships" where repatriated overseas Filipino workers stay for a 14-day quarantine period.
Transportation Secretary Arthur Tugade said the government did not spend money on the facility.
"The Lopez group approached us and donated P100 million to fight COVID," he said.
Makati builds negative pressure tents
The Makati City government has built two negative pressure tents for patients with coronavirus disease 2019 (COVID-19), the first local government unit in Metro Manila to do so.
In a statement yesterday, Mayor Abby Binay said the tents passed international standards.
"These tents, which will be set up at the ambulance bay, are important in protecting other people from contracting the viral disease," she said.
Ospital ng Makati medical director Dr. Vergel Binay said the tents could be easily assembled in car parks, warehouse spaces and open spaces.
Each tent could accommodate six intensive care unit beds, a power supply, pressure sensors and alarms, lighting, filtration systems, LCD monitors, UV/HEPA air purification, toilet and shower, decontamination rooms, changing rooms, storage and air-conditioning systems.
The city government also built three emergency quarantine facilities at Pembo Elementary School and one at the Ospital ng Makati.
Barangay health centers have also put up isolation areas for those with COVID-19 symptoms.
The city government also started to distribute P500 grocery vouchers to some 19,617 Makati condominium residents.
Related video: