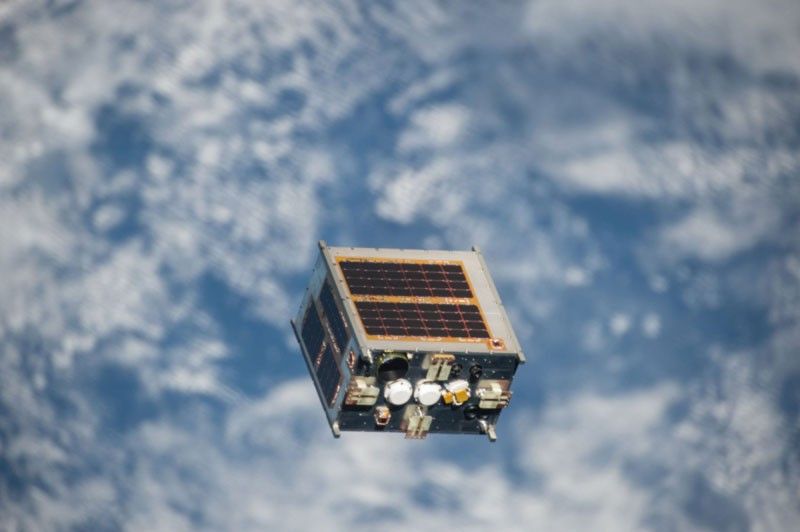 Diwata-1 starts its four-year journey in this photo taken by astronaut Tim Peake in 2016. Ariston Gonzalez, satellite research and development engineer at the Department of Science and Technology, shared the image on Facebook on Monday.
STAR/File
First Philippine satellite signs off
Janvic Mateo
(The Philippine Star) - April 8, 2020 - 12:00am
MANILA, Philippines — The first Filipino-built satellite has finally reentered the Earth's atmosphere, officially ending its mission that has gone way beyond its original life expectancy.
Initially expected to stay in orbit only for two years, Diwata-1 – the first microsatellite designed and developed by Filipinos – was launched into space in March 2016.
It stayed in orbit for four years, sending back satellite images used for assessing impact of disasters, monitoring vegetation and bodies of water and observing weather patterns.
On Monday, Diwata-1 was located close to the widely accepted boundary between outer space and the Earth's atmosphere, according to the STAMINA4Space Program of the Department of Science and Technology (DOST).
At this point, it said the chances of successfully establishing contact with Diwata-1 are extremely low.
"This, therefore, marks the official end of the mission lifetime of Diwata-1," said the group. "Welcome back home!"
Weighing 50 kilos, the microsatellite contains a wide field camera, a middle field camera, a high precision telescope and spaceborne multispectral imager.
It was designed and built by a team of Filipino engineers with the support of Japan's Tohoku University and Hokkaido University.
The STAMINA4Space Program said Diwata-1 has opened horizons of space to the Philippines.
In 2018, the Philippines launched into space a second microsatellite named Diwata-2 and a smaller "nano" cube satellite named Maya-1.
Last year, President Duterte signed a law creating the Philippine Space Agency.
The DOST, in partnership with University of the Philippines, also opened a special nanosatellite engineering track for Master of Science and Master of Engineering programs to capacitate local researchers in satellite engineering.
Major activities in the program would include the local development of cube satellites similar to Maya-1, space environment testing at Kyushu Institute of Technology in Japan and the launch of the satellites via the International Space Station.