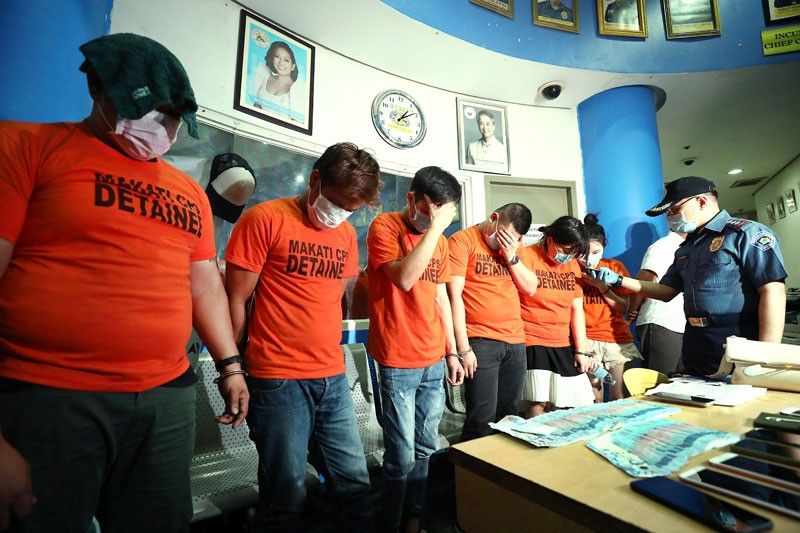 Makati police chief Col. Rogelio Simon questions six suspects who allegedly attempted to kidnap Huang Wei (inset) on Wednesday.
Miguel de Guzman
6 nabbed for foiled kidnap of Chinese POGO worker
Ghio Ong
(The Philippine Star) - March 13, 2020 - 12:00am
MANILA, Philippines — Four Chinese and two Filipinos tagged in the foiled kidnapping of a Chinese working for a Philippine offshore gaming operator (POGO) in Makati were arrested by police on Wednesday night.
Huang Wei, 33, a POGO recruitment agent, was resting at his house at the corner of J. Victor and Roosevelt streets when the suspects barged inside, according to probers.
Police said the suspects dragged Huang outside his house and forced him into a van.
The victim was reportedly beaten up by the suspects while in transit.
Officials of Barangay Pio del Pilar saw the commotion and blocked the van, resulting in the arrest of the suspects.
La Jiao, 25; Yang Yang, 26; Ji Mu, 29, and Wen Lin, 24, were arrested along with their Filipino cohorts Jay Maris Herminio, 34, and Arnil Cortez Abenoja, 38.
Makati police chief investigator Maj. Gideon Ines Jr. said charges of kidnapping and physical injuries would be filed against the suspects.
Police said Huang owed the suspects P80,000, which could have triggered the kidnapping.