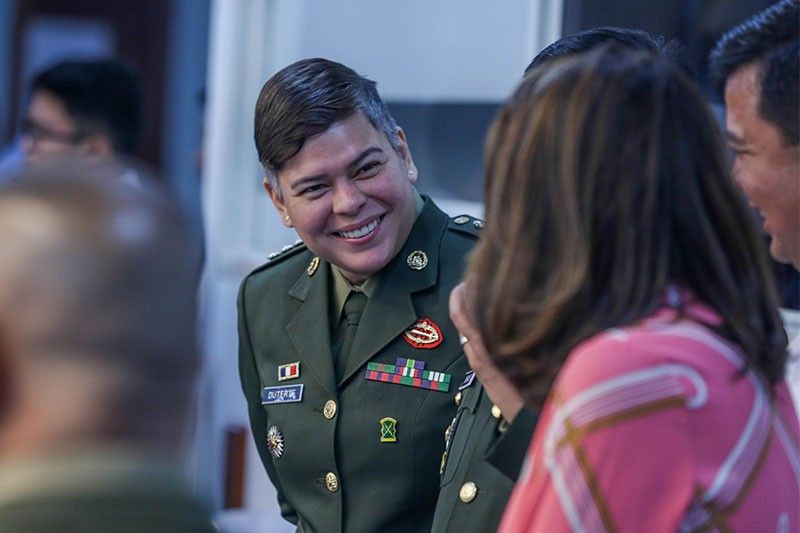 In this March 11, 2020 photo, Davao City Mayor Sara Duterte dons a formal military uniform for her confirmation as a reserve colonel in the Philippine Army.
The STAR/Mong Pintolo
Sara Duterte in self-quarantine for COVID-19
(Philstar.com) - March 12, 2020 - 10:23am
MANILA, Philippines — Davao City Mayor and presidential daughter Sara Duterte will undergo self-imposed quarantine after one of her staff was listed as person under monitoring for possible COVID-19 case.
A statement from the Office of Davao City Mayor said Duterte "shall undergo a voluntary monitored home quarantine and has signed up as a Person Under Monitoring under the Davao City Health Office."
One of Duterte's employees at her residence was unwell and was listed as a person under monitoring, according to the city mayor's office.
Duterte also had a lunch meeting with Sen. Sherwin Gatchalian in Manila on Wednesday.
Gatchalian on Wednesday night announced that he is going into self-quarantine after a resource person at a hearing of the Senate education committee on March 5 tested positive for the novel coronavirus disease.
Sen. Nancy Binay also disclosed that she will undergo quarantine as she was in the same hearing with Gatchalian.
Duterte's office also said the presidential daughter is not experiencing flu-like symptoms.
"She is now confined in an isolated bedroom at her residence and will continue to work through emails, messaging, and videotelecon," the statement further read.
The Malacañang, meanwhile, said President Rodrigo Duterte will undergo a test for COVID-19.
Other cabinet officials of the Duterte government also said they will be in quarantine.
Quarantine measures
.The Department of Health considers the following individuals as those with "close contacts of confirmed COVID-19 cases:"
People providing direct care without personal protective equipment for COVID-19 patients
People staying in the same close environment of a COVID-19 patient (including workplace, classroom, household, fathering) within the past 14-day period
People travelling together in close proximity (1 meter or less) with a COVID-19 patient in any kind of conveyance within a 14-day period after the onset of symptoms in the case under consideration
DOH said that those who are considered as close contacts of patients should cooperate and coordinate with local health authorities.
"Only those deemed to be close contacts or Patients Under Investigation (PUIs) by the health centre or rural health units shall be referred to Level 2 and Level 3 hospitals for testing," DOH said.
Meanwhile, those whose who visited places frequented by confirmed COVID-19 patients are not required to consult the hospital and subject themselves for testing.
"They are advised to self-monitor and if with symptoms, consult health centre or rural health units for appropriate management and monitoring," DOH added.
The Health department said there are 49 confirmed COVID-19 cases in the country as of Wednesday night. — Kristine Joy Patag
As It Happens
LATEST UPDATE: April 8, 2020 - 4:08pm
Follow this page for updates on a mysterious pneumonia outbreak that has struck dozens of people in China.
April 8, 2020 - 4:08pm
The Department of Health reports 106 new confirmed COVID-19 cases, bringing the tally to 3,870.
There are 23 new recoveries and five new fatalities, the DOH adds.
April 8, 2020 - 3:32pm
Voicing joy and excitement from behind face masks, tens of thousands of people fled Wuhan on Wednesday after a 76-day travel ban was lifted on the Chinese city where the coronavirus first emerged.
Previously quiet train and bus stations bustled as an exodus began from the city of 11 million, with some passengers wearing hazmat suits.
Hao Mei, a single parent from the nearby city of Enshi, said her two children had been home alone since she got stuck in Wuhan, where she works in a school kitchen.
"You have no idea! I was already up around 4 am. I felt so good. My kids are so excited. Mum is finally coming home," the 39-year-old told AFP as she waited to board a train.
"At the start of the lockdown, I cried every night. I was really miserable, because my little girl is still young, she's only 10."
Up to 55,000 people are expected to leave Wuhan on Wednesday just by train, according to government estimates. -- AFP
April 8, 2020 - 12:14pm
The National Telecommunications Commission and United Nations Children's Fund join hands with the telecommunications to ensure parents and children's security both online and offline amidst the COVID-19 pandemic.
Upon UNICEF's request, the NTC extends its support in spreading information to alleviate the situation. The telecommunications sector is sending out text blasts encouraging subscribers to visit unicef.ph and saferkidsph.org for information and tips on how to support parents and children in managing the impact of COVID-19.
April 8, 2020 - 8:02am
US President Donald Trump threatens to put a "hold" on funds to the World Health Organization, accusing it of bias toward China and performing badly in the coronavirus pandemic.
Trump tells he was "going to put a very powerful hold on" the WHO, the UN body whose biggest funding source is the United States. He gave no details about how much money would be withheld or when. — AFP
April 8, 2020 - 8:01am
The worldwide number of fatalities from the novel coronavirus rises 80,142, according to a tally compiled by AFP at 1900 GMT from official sources.
More than 1,397,180 declared cases have been registered in 192 countries and territories since the epidemic first emerged in China in December. Of these cases, at least 257,100 are now considered recovered.
The tallies, using data collected by AFP offices from national authorities and information from the World Health Organization (WHO), probably reflect only a fraction of the actual number of infections. — AFP