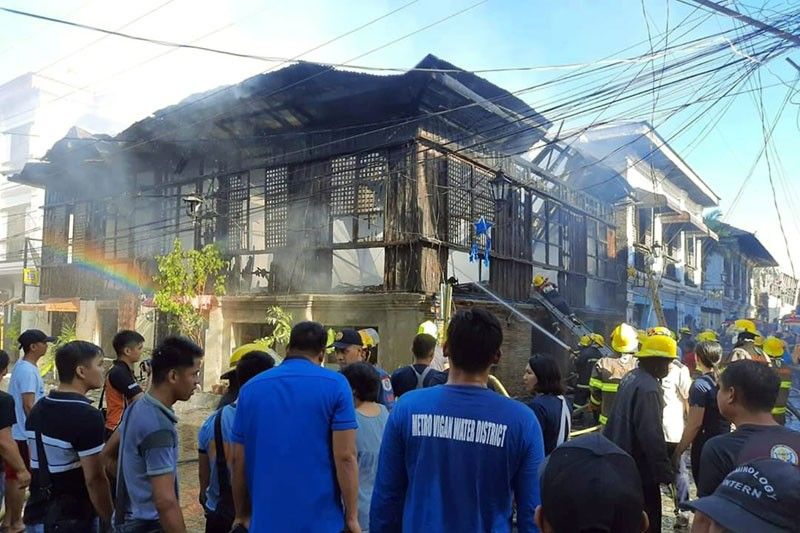 Residents watch as firefighters try to suppress the fire on Gen. Luna street, Vigan in this handout photo.
Fire hits Vigan heritage house, kills owner
TUGUEGARAO, Philippines – A fire of unknown origin razed a two-story heritage house in Vigan, killing its owner yesterday morning.
Firefighters recovered the charred remains of Eric Hassal Hernandez, 51, on the ground floor of the house located on Gen. Luna street in Barangay 1.
The blaze started at around 8 a.m. Fireout was declared two hours later, according to Lt. Col. Fidel Junio, city police chief.
Firetrucks from the nearby town of Bantay and the provincial capitol helped in preventing the fire from spreading to an adjacent hotel and rows of old houses along Calle Crisologo.
The street is known for its century-old houses and has been cited as a World Heritage Site by UNESCO.
Junio told The STAR that Hernandez's house had been partly sold to the operator of the West Loch Hotel.
He said except for the victim, the Hernandez siblings have divided and sold their shares of the property.
It was the second fire that occurred in the area since March 2014 when an old Spanish mansion turned into a dormitory along Bonifacio street was razed to the ground.
Probers have yet to determine the cause of yesterday's blaze.