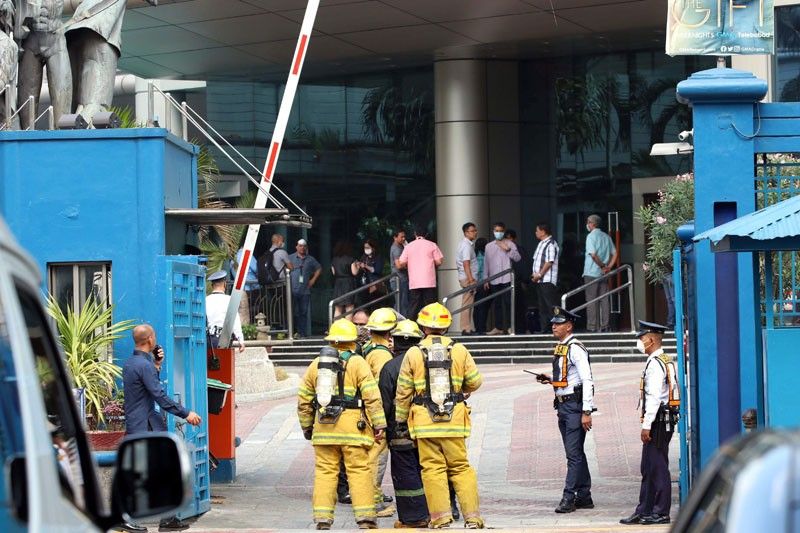 Employees of GMA 7 are evacuated after a fire hit the television network's building in Kamuning, Quezon City yesterday.
Boy Santos, Michael Varcas
Fire hits GMA network canteen
MANILA, Philippines — A fire broke out at the canteen of GMA Network Inc. in Quezon City yesterday.
Arson probers said the fire struck the television network's building in Barangay South Triangle at around 11:22 a.m.
City fire marshal Senior Superintendent Jaime Ramirez said the blaze originated at the cafeteria located on the ground floor.
Ramirez said they have yet to determine what caused the fire.
In a statement, the network said the employees were immediately evacuated to avoid casualties.
Damage to property was placed at P2,000.
In Barangay Batasan Hills, at least 36 families were left homeless when a fire hit a residential area on Monday.
The fire, which destroyed around 18 houses along Senatorial street, started at around 6:54 p.m and reached the fourth alarm.
Authorities said the blaze engulfed the two-story house owned by Marlyn Velasco, 48.
There were no reported casualties in the fire, which destroyed P90,000 worth of property.
In Las Piñas, some 200 families lost their homes when a fire struck Barangay Almanza Uno yesterday.
City fire marshal Superintendent Arthur Sawate said the blaze started at the house of Loreto Damalerio before 10 a.m.
Sawate said the fire razed at least 80 houses and lasted more than one hour.
The city government provided relief assistance to the affected residents who are temporarily taking shelter in a covered court in the area.