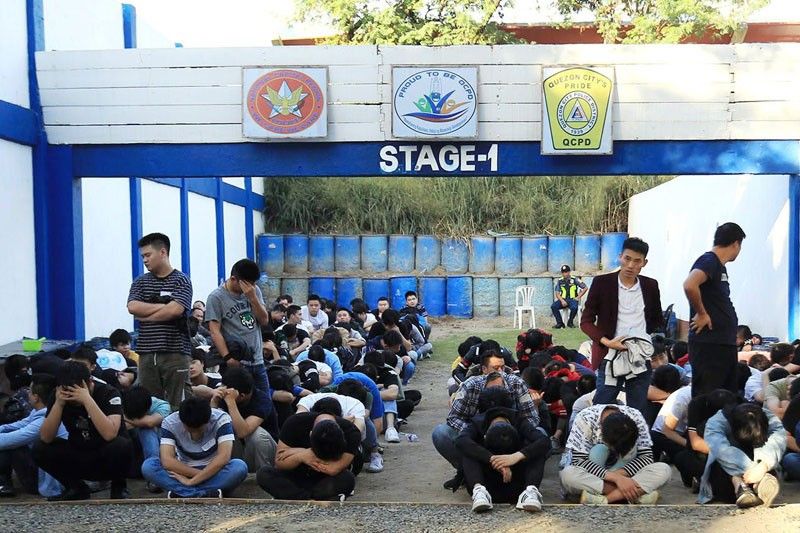 Chinese POGO workers wait to be booked at the Quezon City Police District at Camp Karingal following their arrest on Thursday night.
MICHAEL VARCAS
342 Chinese POGO workers held for fraud
MANILA, Philippines — A total of 342 Chinese said to be working for a Philippine offshore gaming operator (POGO) were apprehended for their alleged involvement in cybercrime, investment scams and online fraud, during a raid in Quezon City on Thursday night.
The raiders from the Quezon City Police District (QCPD) and Bureau of Immigration (BI) swooped down on the offices of the Global Trade Center along EDSA in Barangay Bago Bantay at past 10 p.m., based on the request of the Chinese embassy.
Police said one of the suspects suffered minor injuries after he jumped out of the window from the second floor of the building. The Chinese was rushed to the Philippine Orthopedic Center for treatment.
Brig. Gen. Ronnie Montejo, director of the QCPD, said the Chinese workers were supposedly employed by Lambda Business Processing Outsourcing, a POGO registered with the Philippine Amusement and Gaming Corp. (PAGCOR).
However, Fortunato Manahan Jr., chief of the BI intelligence division, said despite having a license from PAGCOR, the POGO company is not yet allowed to operate.
"We sought the assistance of the gaming regulator in confirming the company's permit. We found out that Lambda was duly licensed, but is not yet allowed to operate," Manahan said.
Authorities said Lambda used several names, which drew suspicion that it has been used as a front for cybercrime and investment scams.
"We coordinated the operation with the Chinese government, which confirmed the company's involvement in illegal activities, victimizing mostly their compatriots in China," Manahan said.
According to Montejo, the Chinese embassy cancelled the passports of the Chinese – 298 males and 44 females – for communication fraud.
Police took custody of the suspects after the BI verified with the Chinese embassy that their passports had been cancelled.
The suspects were brought to the multi-purpose hall of the QCPD headquarters at Camp Karingal for booking and documentation since the BI does not have enough facilities to accommodate them.
"We have to secure them pending the processing of their deportation by the BI within 20 days," said Montejo, adding that his office and the Chinese embassy would shoulder the daily meals of the Chinese. – With Robertzon Ramirez