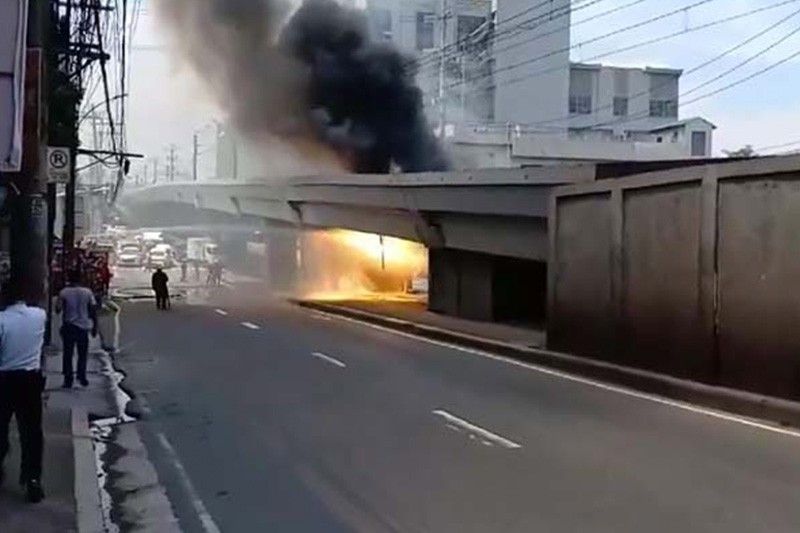 Sparks and smoke are seen coming from a transformer (inset) that caught fire at the Light Rail Transit Line 2 yesterday. Image taken from a video posted on Facebook by Ronnie Alonte.
Ghio Ong
(The Philippine Star) - October 4, 2019 - 12:00am
MANILA, Philippines – A day after its trains stalled due to power supply problems caused by a lightning strike, a fire forced the Light Rail Transit Line 2 (LRT-2) to stop operations indefinitely yesterday.
The LRT-2 stopped operations at around 11:24 a.m. yesterday after the transformer located between its Katipunan and Anonas stations sparked and burst into flames.
"Rectifier Substation 5 and 6, located between Katipunan and Anonas, and in the Santolan Depot, tripped and caught fire," LRT-2 spokesman Hernando Cabrera to The STAR. Rectifier is the LRT-2's term for a transformer.
Quezon City fire marshal Senior Superintendent Jaime Ramirez said the fire started at around 11:19 a.m. and reached second alarm, destroying P500,000 worth of property before it was put out at around 11:38 a.m.
Ramirez said there was no explosion, despite initial reports that an explosion was heard in the area.
There were no reported injuries in the fire.
Just before 5 p.m., the LRT-2 management said it decided to forgo limited runs and advised commuters to "find alternative modes of transportation."
Last Wednesday, both the LRT-2 and the Metro Rail Transit Line 3 had power supply problems. Lightning struck part of the LRT-2, causing the trains to stop running, according to earlier reports.
LRT-1 closes 2 stations
Glitches also prompted the LRT Line 1 to close two of its stations yesterday.
The rail line announced on Twitter at past 7 a.m. that the trains would only run between its Monumento and Baclaran stations.
"Our Balintawak and Roosevelt stations will be closed until further notice due to extended servicing needed for the mechanical issue we encountered this morning," the management said, and also advised train passengers to "have an alternative plan."
Jackie Gorospe, corporate communications head of the Light Rail Manila Corp. that operates the LRT-1, told The STAR that the mechanical problem was "the failure on the switch for the turnback of the train." She did not elaborate.
Train trips between the LRT-1's Roosevelt and Baclaran stations were restored by around 1:50 p.m. Romina Cabrera