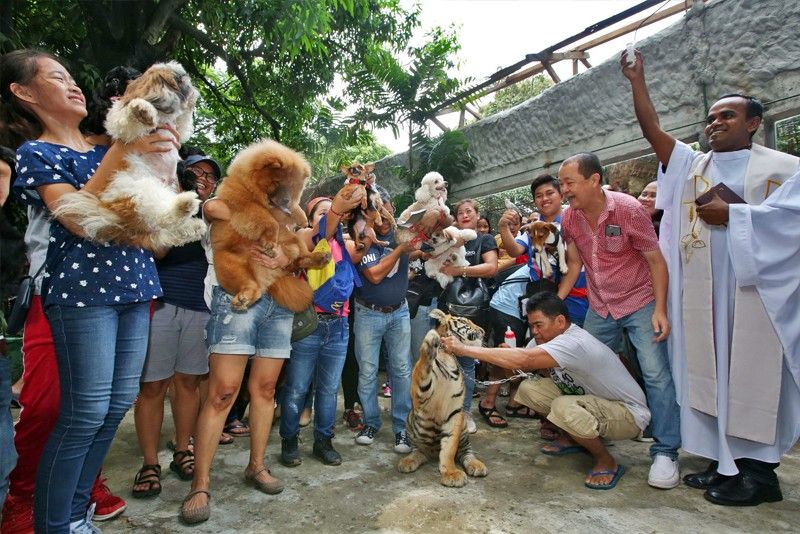 Malabon Zoo owner Manny Tangco looks on as a priest bless dogs and their owners ahead of World Animal Day celebration on Oct. 4.
Ernie Peñaredondo
DOH gets P500-million budget for anti-rabies program
MANILA, Philippines — The Duterte administration has allocated funding of P500 million next year for the National Rabies Prevention and Control Program of the Department of Health (DOH).
"The additional budget for the program is meant to enable the country to eradicate rabies," Anak Kalusugan party-list Rep. Mike Defensor said yesterday.
The World Health Organization (WHO) observed World Rabies Day on Sept. 28, coinciding with the death anniversary of Louis Pasteur, the French chemist and microbiologist who developed the first rabies vaccine.
The DOH aims to eliminate human deaths from rabies infections by next year, and to declare the Philippines rabies-free by 2022.
The number of rabies-free areas in the country reached 62 last year, up from 49 in 2017, the DOH said in a report submitted to Congress.
Some 300 Filipinos die of rabies every year, according to the DOH.
Rabies virus is caused by animal bites, particularly dogs. The virus is spread to humans through the saliva of infected animals.
Rabies is fatal but it can be prevented with vaccination in animals and people, according to the WHO.
Defensor reminded local government units (LGUs) to implement the Anti-Rabies Act of 2007.
"LGUs are bound under the law to conduct periodic mass vaccination of dogs, establish databases for registered and inoculated dogs, control homeless and unvaccinated dogs and conduct public information drives to control rabies infections," he said.
Defensor also asked pet owners to have their dogs vaccinated against rabies.
In May, a 24-year-old Norwegian woman died after she contracted rabies from the bite of a stray puppy that she rescued while vacationing in the Philippines.
The woman did not seek post-exposure vaccination. She became sick and eventually died after returning to Norway.