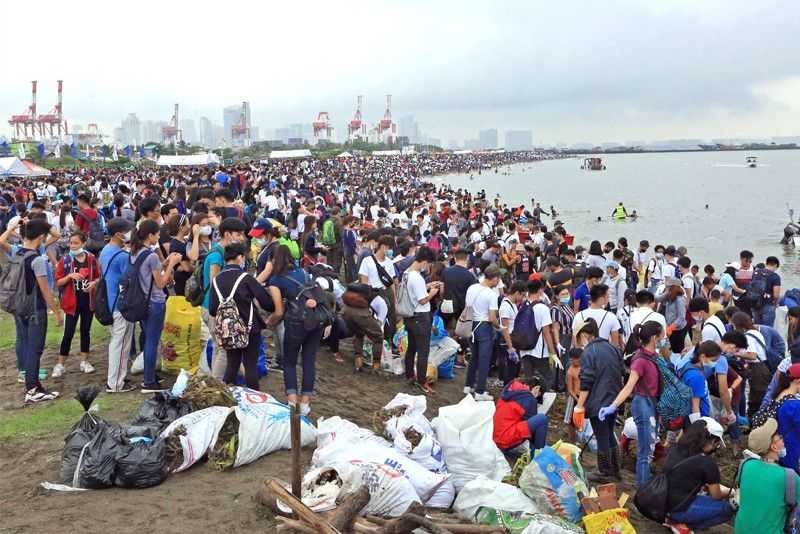 Thousands of volunteers help clean up the coastline of Manila Bay in Baseco, Manila yesterday to mark the 34th International Coastal Cleanup Day. Inset shows two boys picking garbage floating in the bay.
Edd Gumban
20,000 join Manila Bay cleanup
MANILA, Philippines — At least 20,000 people participated in the cleanup of Manila Bay yesterday as part of the observance of International Coastal Cleanup (ICC) Day 2019.
"More and more are now taking part in the cleanup following the campaign we launched on Manila Bay. Many have realized how important it is to take care of our natural resources, that is why the huge number of participants," said Undersecretary Benny Antiporda of the Department of Environment and Natural Resources (DENR).
Apart from employees of government agencies concerned in the cleanup, the participants included members of the academe and environmental and civic groups.
DENR Secretary Roy Cimatu said simultaneous cleanup activities took place yesterday within the Manila Bay region and in river systems that drain into the bay.
He cited that last Jan. 27, over 10,000 people took part in the launch of the rehabilitation program dubbed the "Battle for Manila Bay." Since then, activities have been held to clean up canals and bodies of water that drain into the bay.
Cimatu said yesterday's event, dubbed the "Battle for Trash-Free Manila Bay," aims to sustain the momentum of restoring Manila Bay to its former glory.
DENR cleanup sites were in Barangay 649 in Baseco, Manila, the coastal areas of Navotas Centennial Park, and the river systems of Tullahan-Tinajeros and Marikina River, which drain into Manila Bay.
Other cleanup sites were the Navotas Tanza Marine Tree Park; Las Piñas-Parañaque Critical Habitat and Ecotourism Area; By the Bay Central Park in SM Mall of Asia and Gloria Maris at the Cultural Center of the Philippines complex, both in Pasay City; and Polytechnic University of the Philippines in Sta. Mesa, Manila.
Cimatu said the DENR aims to reduce the fecal coliform level in Manila Bay to 100 most probable number per 100 milliliters to make its waters fit for swimming.
The cleanup is in line with the 2008 Supreme Court ruling ordering the DENR and 12 other government agencies to "clean up, rehabilitate and preserve Manila Bay for the enjoyment of the present and future generations."
Established in 1986 by the Washington-based environmental group Ocean Conservancy, the ICC is recognized as the world's largest volunteer effort for the ocean's health.