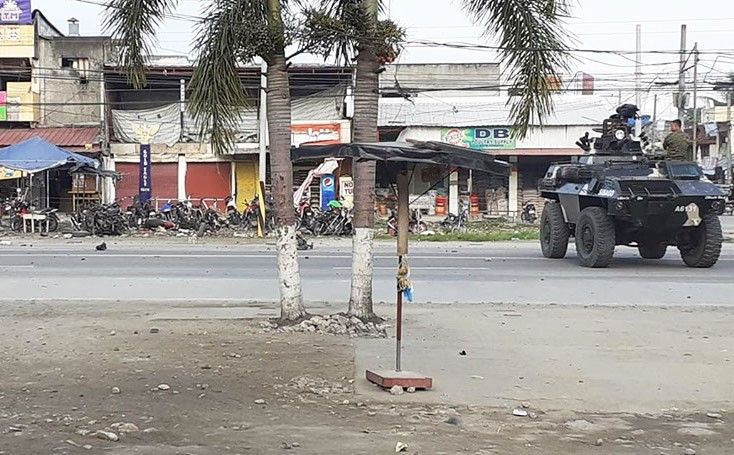 Seven were injured in Monday's bombing in Isulan, Sultan Kudarat.
Philstar.com/John Unson
7 hurt in Sultan Kudarat bomb explosion
John Unson
(Philstar.com) - September 7, 2019 - 10:22am
SULTAN KUDARAT, Philippines — Seven were injured in a powerful explosion that ripped through a strategic spot in the public market of Isulan town early Saturday.
Blast victims Nasim Gulano, Jarren Amigo, Ñino Virgo, Tenecio Cagadas, Jr., Jomar Aquino, Gerald Cartagena and Jay Carnaso were immediately rushed to a hospital by responding personnel of the Isulan municipal police office for treatment.
Police and Army bomb experts said there are indications that an improvised explosive device rigged with a blasting contraption that can be detonated from a distance was used in the attack.
Major Gen. Diosdado Carreon of the Army's 6th Infantry Division said intelligence agents from the 601st Brigade are now helping the police investigate on the incident.
Police investigators said the IED could have been placed inside a utility box of a motorcycle left in a parking area near business establishments along a busy thoroughfare traversing the municipal market.
Plainclothes Army agents said there are signs that the IED that went off and hurt four people was identical with the home-made bombs produced by the outlawed Bangsamoro Islamic Freedom Fighters.
The BIFF, operating in the fashion of the Islamic State of Iraq and Syria, has been trying to sabotage the peace process between President Rodrigo Duterte and the Moro Islamic Liberation Front.
The IED was detonated at 7:10 a.m. Saturday, about eight hours before the president is to lead the symbolic decommissioning of hundreds of MILF guerillas in Sultan Kudarat, Maguindanao as part of efforts to restore normalcy in the Bangsamoro Autonomous Region in Muslim Mindanao.
The MILF's figurehead, Hadji Ahod Ebrahim, is now chief minister of BARMM, whose creation was premised on two compacts between the group and Malacañang -- the 2012 Framework Agreement on Bangsamoro and, subsequently, the 2014 Comprehensive Agreement on Bangsamoro.
The bombing on Saturday in Isulan was the town's fourth in about 13 months.
Five people were killed while more than 60 others were injured in separate IED attacks in Isulan early on, all blamed on the BIFF.
The BIFF is not covered by the ceasefire accord between the government and the MILF.