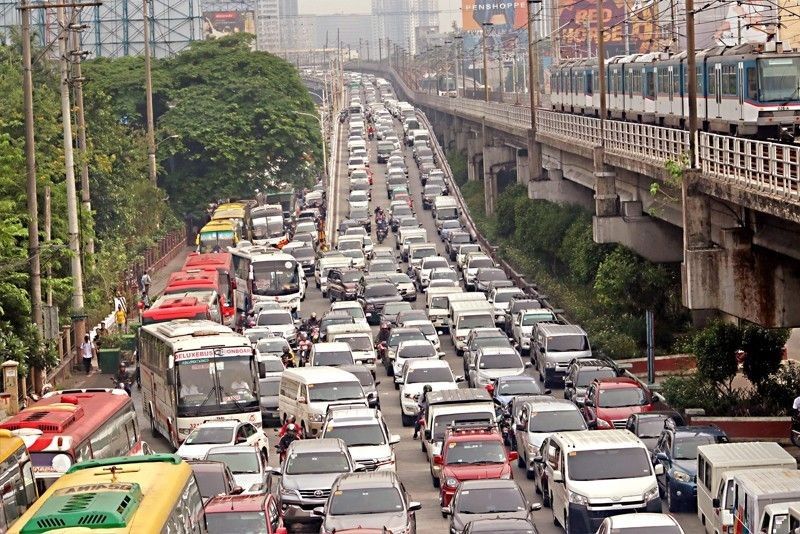 The petition's author, Daniel Ramos Jr., said allotting three of the EDSA's five lanes to public buses received a cold shoulder from traffic czar Bong Nebrija, who told him, "Be careful what you wish for."
Rudy Santos/File
MMDA nixes more EDSA bus lanes
MANILA, Philippines — The Metropolitan Manila Development Authority (MMDA) yesterday warned the public about opening more lanes for city buses to improve traffic along EDSA, a proposal pitched by a concerned commuter through an online petition.
The petition's author, Daniel Ramos Jr., said allotting three of the EDSA's five lanes to public buses received a cold shoulder from traffic czar Bong Nebrija, who told him, "Be careful what you wish for."
Ramos started the change.org petition four months ago, calling for more bus lanes to encourage more people to commute by buses, effectively reducing the number of private vehicles plying EDSA.
This would encourage a "cheaper, cost-efficient, and environment-friendly" way of commuting to work or school because traffic along EDSA would not be choked with private vehicles that primarily cause the gridlock, Ramos argued.
"The cause of traffic is private cars, but the solution they keep on doing is targeting buses. If you lessen or restrict buses, that is just the opposite of the solution. The solution really is to encourage people to use buses," Ramos told The STAR in an interview yesterday.
The petition had garnered 200 signatures as of last night.
Ramos said designating three lanes of EDSA to buses would bridge the gap between the private car owner and the commuter.
"It is one way of letting more people share the road and not make it almost exclusive to the selected few," the petition read.
Traffic jam
Nebrija warned commuters of the traffic that would ensue if buses would be allowed to take over EDSA.
Yesterday, traffic snarled on the third week of the MMDA's strict implementation of the yellow bus lane policy, which saw a slow-moving line of buses while private vehicles breezed through on the outer lanes.
Near Scout Borromeo street in Quezon City, Nebrija berated bus drivers for violating the yellow lane and occupying three lanes yesterday morning.
"Fine, let's allow buses on all lanes of EDSA. Let's see if EDSA can still be passable. Is this what we want to happen?" Nebrija said on his Facebook Live video of the traffic yesterday.
Nebrija warned Ramos that his proposal would not work because of undisciplined bus drivers.
"If we make it legal, and open the third lane to buses, don't you think they will not go to the fourth or the fifth lane?" Nebrija said, as he called for a different petition instilling discipline among drivers.
He said the long-term solution would be to reduce vehicle volume on EDSA, a move the MMDA is considering by prohibiting provincial buses, but this has been unpopular among commuters.
"There are more people in those buses than in any of the cars. A bus has about 40 to 60 people. The space a bus occupies is equivalent to three cars. You should be prioritizing 40 to 60 people against the six to eight in private cars," said Ira Cruz, director of transportation advocacy group AltMobility.
Car owners, on the other hand, say they invest in their own vehicles because of the inefficiency of the mass transport system.
Buses stop anywhere and linger to pick up passengers, prolonging driving time by double or triple that if one is riding in a private car.
Meanwhile, the overhead railways keep breaking down and lining up during rush hour can take two hours.