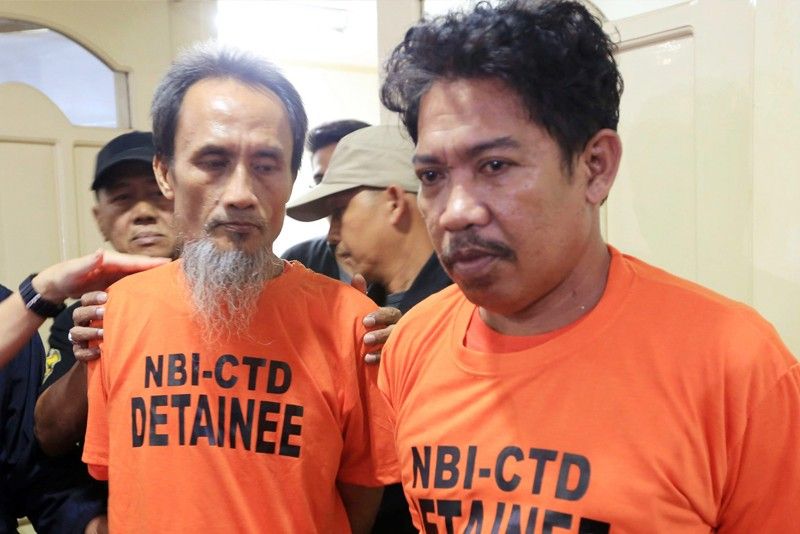 Abdulla Addi and Aluyudan Guru are presented in a press conference at the National Bureau of Investigation headquarters yesterday.
Edd Gumban
2 Abus nabbed in Pasay, Zamboanga
Rey Galupo
(The Philippine Star) - August 20, 2019 - 12:00am
MANILA, Philippines — Two alleged members of the terror group Abu Sayyaf were arrested in separate operations in Pasay and Zamboanga City over the weekend, the National Bureau of Investigation (NBI) said yesterday.
Abdulla Addi, alias Tuma, and Aluyudan Guru, alias Abu Tarik, are accused of taking part in the 2002 Patikul, Sulu kidnapping wherein two hostages were beheaded and four others held for ransom.
The two men were also tagged in the 2000 Sipadan kidnapping wherein 19 foreigners and two Filipinos were held captive at an Abu Sayyaf camp in Jolo, Sulu.
Addi, who was arrested in Zamboanga City following a tip from an informant, led NBI agents to Guru, who was selling socks under the Light Rail Transit's Baclaran station.
NBI deputy director Vicente de Guzman III said Guru has established himself as a community leader.
Addi is allegedly a close associate of the late Gumbahali Abu Jumdail, alias Dr. Abu, who treated wounded and sick members of the terror group.
Addi was also reportedly involved in the kidnapping of three Indonesian sailors in 2002 and tagged as a participant during the Marawi siege.