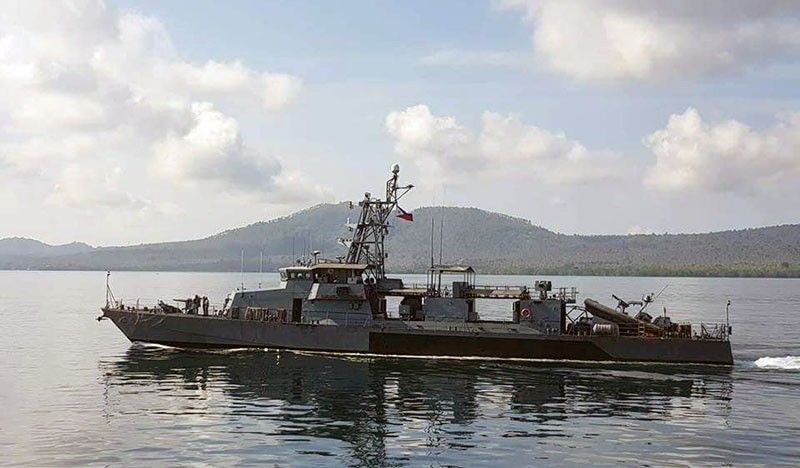 This file photo shows the BRP Mariano Alvarez (PS-38), which has been conducting patrols and participating in maritime exercises with ships from Indonesia and Malaysia.
Naval Forces Western Mindanao
Westmincom on guard against suicide bombings
ZAMBOANGA CITY, Philippines — The Islamic State-inspired Abu Sayyaf group and foreign militants that are with them are planning more suicide bombings after their June 28 attack in Sulu, the chief of the military's Western Mindanao Command said Monday.
"So we have monitored that they will continue to do it," Lt. Gen. Cirilito Sobejana told a local TV station here.
Sobejana assured the public, however, that the Armed Forces have ramped up intelligence operations to prevent more bombings.
"We in the armed forces, being mandated to secure everybody, are stepping up also or leveling up our intelligence efforts so that before they can launch that barbaric act of exploding human beings in the middle of the crowd will be prevented," Sobejana said.
"The level of terroristic actions being done by the local as well as the foreign terrorist group here in the country had leveled up. Before, they used to place IED (improvised explosive device) in the points of convergence where people gathered and lately there was already this human bomb or suicide bomber," Sobejana warned.
He said the military is keeping an eye on areas that might be susceptible to attack, adding that "we know that sources of these IED attacks or IED fabrication or even the suicide bombing have been isolated to the island provinces like Sulu and also in Basilan as well as in Maguindanao."
Maintaining peace and order also public's job
The military commander reminded the public to be more vigilant against possible attacks.
"Peace is people empowerment in addressing challenging environment by letting them know how to identify threats like the IEDS and the immediate actions that they should do whenever they observed one," Sobejana said.
Sobejana also said security along the country's maritime border with Malaysia will be tightened through Naval Forces Western Mindanao, which is expected to deploy more patrols against piracy and kidnapping.
"So we are accelerating our operations in those areas and hopefully we can neutralize the Abu Sayyaf group by the end of this year," Sobejana said.
He said neutralizing the Abu Sayyaf group would also mean preventing foreign militants from seeking refuge in the southern Philippines.
The military estimates there are about 300 Abu Sayyaf members hiding in the mountains of Sulu while a few are also on the run in the jungles of Basilan.