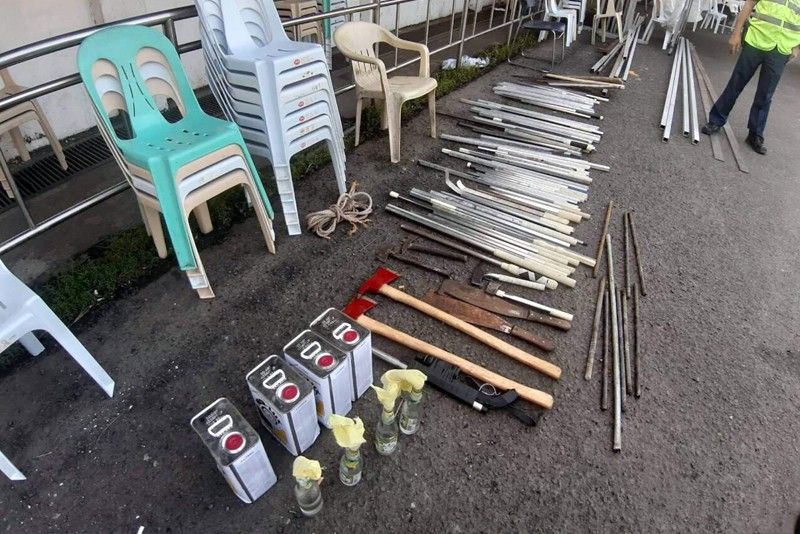 A police officer stands guard over improvised bombs and weapons recovered from the VTI headquarters in Bacolod City over the weekend.
Gilbert Bayoran
Bombs found in Negros bus firm's compound
BACOLOD CITY, Philippines — More improvised bombs and weapons were found at the Vallacar Transit Inc. (VTI)'s main headquarters in Barangay Mansilingan in this city over the weekend, police said yesterday.
VTI is owned by the multibillion-peso Yanson Group of Bus Companies (YGBC), which has been the subject of a legal dispute among the members of the Yanson family.
The bombs and weapons were recovered during a clearing operation conducted after the Yanson matriarch Olivia and her son Leo Rey regained control of the company on Friday.
Leo Rey was ousted as the company president by his siblings Roy, Ricardo Jr., Celina and Emily, in a special board meeting on July 7.
Jade Seballos, spokesperson for Leo Rey and Olivia, yesterday said for safety reasons, employees were barred from entering the premises as the clearing operation was ongoing.
Maj. Sherlock Gabana, city police Station 7 chief, said molotov bombs and improvised weapons were recovered on Friday near the Gates 2 and 3 of the company headquarters.
Gabana said Seballos reported that more bombs and weapons were found the following day at the back of the compound.
The retaking of the VTI headquarters occurred after the Philippine National Police-Supervisory Office for Security and Investigation Agencies (PNP-SOSIA) reinstalled the guards of the Armored Guards Negros Security Agency (AGNSA).
Two days before the takeover of the Mansilingan compound, the AGNSA guards – hired by Leo Rey – seized control of the VTI Bacolod South Terminal despite resistance from the camp of the Yanson siblings.
Sheila Sison, counsel for the siblings, said they did not expect the takeover as a SOSIA order to reinstall the AGNSA guards had been implemented outside the YGBC headquarters.
Norman Golez, counsel for Leo Rey, Olivia and his sister Ginette, said they now have full control of the YGBC, which operates in the Visayas and Mindanao.
Olivia has filed a case against her four children, demanding the return of her shares of stocks in the YGBC that she and her husband built.
Roy has asked the Supreme Court to prevent the police from evicting them from the company premises.
He said his siblings and their workers felt threatened by the presence of the police in the area.