MMDA enforces yellow lane policy; traffic worsens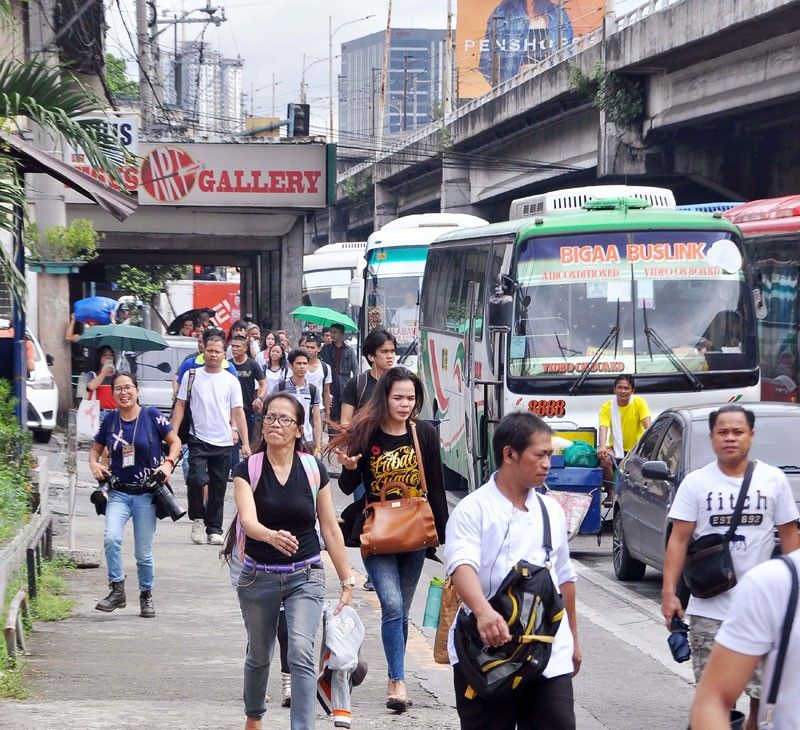 MANILA, Philippines — Buses took over almost all lanes on EDSA last week, prompting the Metropolitan Manila Development Authority (MMDA) to strictly implement the yellow lane policy but inadvertently worsening the traffic since Monday.
In a press conference yesterday, MMDA general manager Jojo Garcia said he has ordered enforcers to strictly enforce the yellow bus lane after seeing its non-enforcement last week along EDSA.
But there was confusion on the ground when even provincial buses were prevented from plying the tunnels and flyovers and ordered to ply the yellow lane, causing traffic to worsen inadvertently, Garcia said.
"We are pleading to the motorists, especially the private vehicles – please avoid the yellow lane. Let us give this lane to the buses. So that the ordinary commuter can commute faster," Garcia said.
MMDA spokesperson Celine Pialago yesterday said the traffic buildup worsened after city buses took over the intersections along the main thorougfare.
MMDA traffic czar Bong Nebrija said the EDSA traffic gridlock since Monday only showed how buses contribute to the traffic on the main artery.
"That's why we want to reduce the number of buses on EDSA by 50 percent," Nebrija said, citing the need for the provincial bus ban on EDSA.
The MMDA will push through with today's dry run of the provincial bus ban despite an injunction from a Quezon City court.
Garcia said the agency has received the injunction issued by Regional Trial Court Branch 223 Judge Caridad Walse-Lutero against the agency's ban on provincial buses along EDSA.
He said today's dry run is voluntary, basing his claim on a verbal agreement made last week with operators.
"I'm holding on to our meeting last week when there was still no injunction. The operators said yes when asked if they would participate. Of course I would not have any problem with that. The public's welfare is most important here," Garcia said.
He blamed the injunction for frustrating the MMDA's efforts to solve traffic along EDSA.
Today's dry run will start 4 a.m. and the interim terminals in Valenzuela, Parañaque and Laguna will be activated to accept buses dropping off passengers from the provinces, according to Nebrija.
The Quezon City court granted the petitioners' injunction for failure of the MMDA to present proof that traffic along EDSA is caused by provincial buses.
Walse-Lutero cited a Japan International Cooperation Agency study that traffic worsened due to the increase in car ownership and decline in commuters riding buses and jeepneys, which could carry more people than private vehicles.