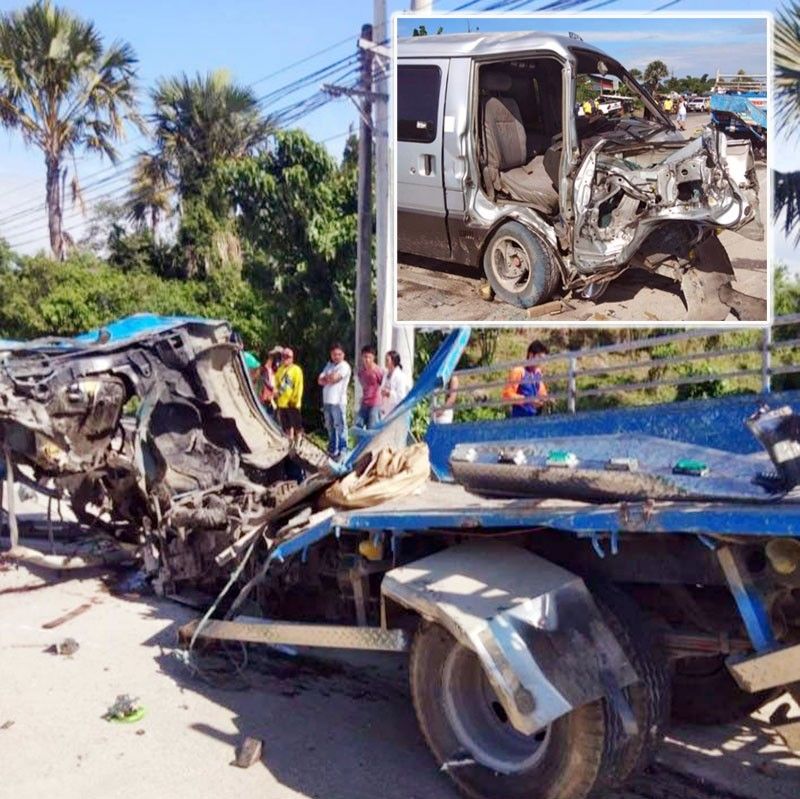 Bystanders look at the wreckage of an Isuzu Elf truck, which collided with a Kia Besta (inset) along Maharlika Highway in Barangay Ibabang Dupay, Lucena City, Quezon yesterday. Photos were provided by the Quezon police.
9 dead, 16 hurt in Cebu road mishap
MANILA, Philippines — Nine people, including seven grade school students, died while 16 others were injured when a dump truck rolled over in Barangay Upper Bicerril, Boljoon, Cebu at past 7 a.m. yesterday.
S/Sgt. Nelson Saquibal told The FREEMAN the vehicle was traversing a hilly portion of the road in Sitio Lintongan when the driver lost control of the wheel.
The fatalities were identified as Jerome Niere, 11; Mary Ann Filipino, 12; Janna delos Santos, 12; Clint Isidore Dugang, 10; Jefferson Jorpo, 11; Alexander Villanueva, 20; Mark Loyd Mosqueda, 12; Riza Mae Viñan, 10, and Victoria Gorozon, 40, all residents of Barangay Nangka.
Some of the fatalities were reportedly pinned under the truck or thrown off the vehicle due to the impact of the crash.
Fifteen of the injured are also students, aged nine to 12, most of whom suffered fractures. They were taken to district hospitals in Boljoon, Vicente Sotto, Carcar and Oslob for treatment.
The truck driver, Danilo Niere, was arrested. He is facing charges for reckless imprudence resulting in multiple homicide and damage to properties.
Boljoon municipal information officer Ruben Niere said the victims were on their way to attend a cultural and sports festival in Barangay Poblacion when the accident occurred.
Niere said the Department of Education (DepEd) requested the dump truck to pick up students from the Nangka and San Antonio Elementary Schools and two other barrio schools.
Boljoon Mayor Merlu Derama called for a special session of the town council to determine the assistance to be provided to the victims and their families.
The DepEd office in Central Visayas also ordered its field units to ask for financial assistance for the victims.
5 dead in smashups
Meanwhile, in Quezon, five persons died and 18 others were injured in separate accidents involving four vehicles in Lopez town on Thursday night and Lucena City yesterday.
Maj. Glenn Miralles, Quezon police chief, said the driver of a Toyota Hi-Ace, Paterno Carnate Jr., and Raymundo, 56; Maryjoy Claire, 48, and Raquel, 20, all surnamed Achebuche, died in the accident in Barangay Mal-ay, Lopez.
Probers said a motorcycle crashed into the van after it was hit by a truck, which in turn hit a parked Honda CRV.
The truck driver, Marlon Ricon, was arrested.
In Lucena, Pacifico Espadilla died when his truck collided with a bus, which also hit a van and a Toyota Hilux in Barangay Ibabang Dupay. Eight other persons were injured. – The Freeman, Bebot Sison, Ed Amoroso, Rainier Allan Ronda