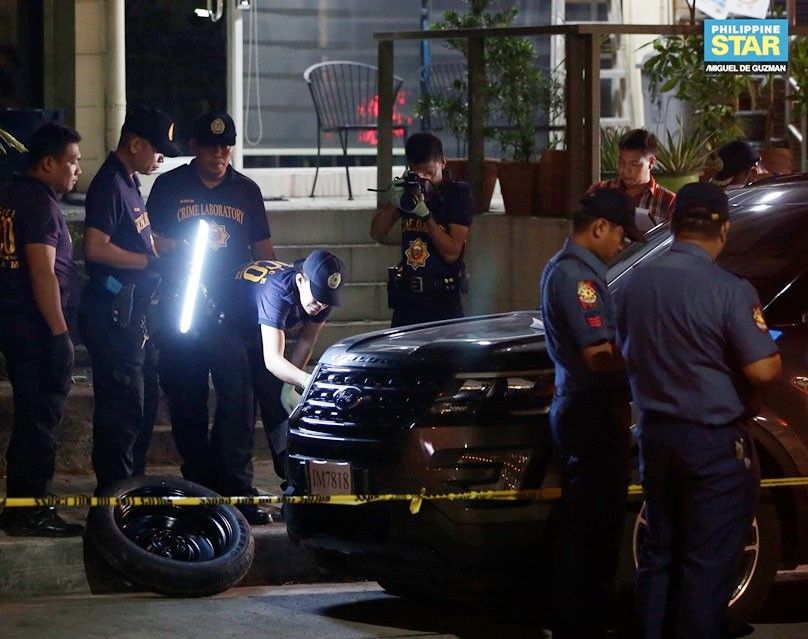 Members of the SOCO and Quezon City Police District Bomb Squad gather data and possible residue following an alleged explosion in front of a Korean restaurant along Scout Tuason in Quezon City on Thursday midnight.
Miguel de Guzman
Blast rocks QC restaurant
MANILA, Philippines — An improvised explosive device was lobbed at a Korean restaurant in Quezon City yesterday.
Brig. Gen Joselito Esquivel Jr., Quezon City Police District (QCPD) director, said the blast in front of Chung Mi Rae restaurant in Barangay South Triangle occurred at around 12:40 a.m.
There were no casualties but two vehicles, a Toyota Innova and a Ford Explorer, sustained minor damage in the explosion.
A witness described the suspect as a man in his 30s and clad in a black t-shirt, who immediately left the scene on foot.
Esquivel said a safety lever, a striker spring and fragments from an MK2 grenade were retrieved at the scene.
The motive for the attack has not been established, he said.