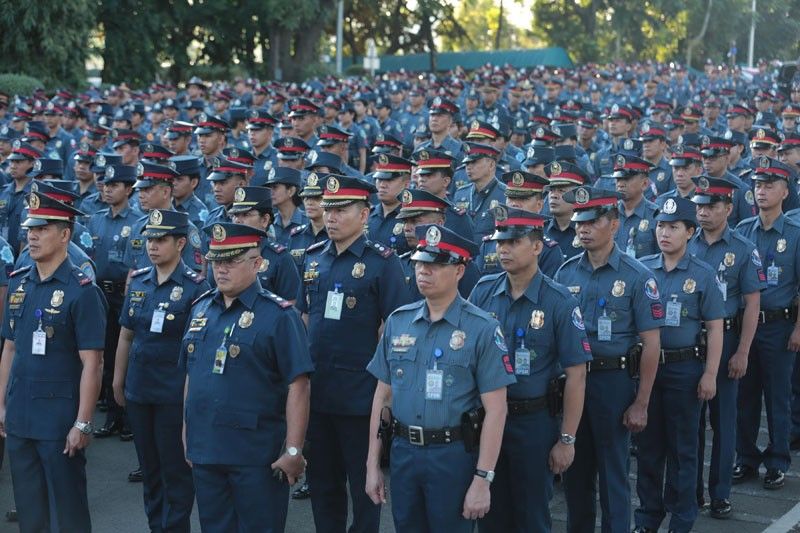 Policemen who are estranged from their spouses or have mistresses will undergo the same program together with their colleagues facing other administrative offenses.
Michael Varcas
Unfaithful husbands in PNP to undergo reformation
MANILA, Philippines — Unfaithful husbands in the police force will be included in a revitalized reformation program of the Philippine National Police, PNP chief Gen. Oscar Albayalde said yesterday.
Policemen who are estranged from their spouses or have mistresses will undergo the same program together with their colleagues facing other administrative offenses.
"Yes. That's why we want to strengthen the family here as an institution," he told reporters when asked if policemen facing marital problems will be included in their reformation program.
Albayalde yesterday led the PNP's new strategy to address police scalawags at Camp Crame in Quezon City. With the application of the "squad concept," which put emphasis on values formation, spiritual development and strengthening of families of police personnel, the PNP chief is confident that lawmen who committed wrongdoings can still be reformed.
The squad concept is a strategy where six to eight police officers are formed into small groups. They are led by a squad leader who monitors their group for anyone who could commit offenses.
Economic abuse raps rise
Data from the PNP Women and Children Protection Center (WCPC) showed there were 301 complaints of economic abuse against policemen in 2018, the same year police officers received a significant pay hike from the Duterte administration.
The number is higher by 40 percent compared to 215 cases in 2017. As of last July 7, the WCPC has received a total of 36 complaints.
Albayalde said the increase in their salaries prompted former wives and mistresses of police officers to ask more financial support for their children.
Albayalde said these police officers are prone to corruption as they need more money to provide ffor their children born out of wedlock.
Records show that a total of 7,982 police officers were sanctioned for administrative violations since July 2016. Of the number, 2,400 were dismissed from the service for grave offenses such as extortion and kidnapping.
The remaining 5,582 police officers who were penalized for other misdemeanors but are still in the service could still be reformed, according to Albayalde. Among these are the 4,161 policemen who were suspended.
Meanwhile, 619 were reprimanded, 481 were demoted, 195 had their salaries forfeited, 85 had their privileges withheld and 41 were placed under restrictive custody for a certain period.
The revitalized internal program will be implemented first in Metro Manila. Albayalde said it should be expected that more police scalawags are in the capital, which has more police personnel than other regions.
There are about 29,000 police officers assigned in the National Capital Region alone.
2 cops to be retrained
Maj. Gen. Guillermo Eleazar, National Capital Region Police Office (NCRPO) chief, said M/Sgt. Arnulfo Ardales and S/Sgt. Nicolas Lapie Jr. of the San Juan and Marikina police, respectively, will undergo retraining.
"Obviously, these policemen need moral and spiritual recovery so that they would fully understand how they should behave, how professional they should be at all times," Eleazar said in an interview.
Ardales was caught on video verbally abusing Aaron Estrada who cut ahead of him while buying food at an eatery in San Juan while Lapie beat up an eight-year-old boy while watching a basketball game in Pasig City last Sunday.
Ardales and Lapie are under restrictive custody at the NCRPO headquarters in Camp Bagong Diwa.
Eleazar said the two lawmen have not been absolved of criminal and administrative liabilities that may come up during the investigation of the incidents. – With Non Alquitran