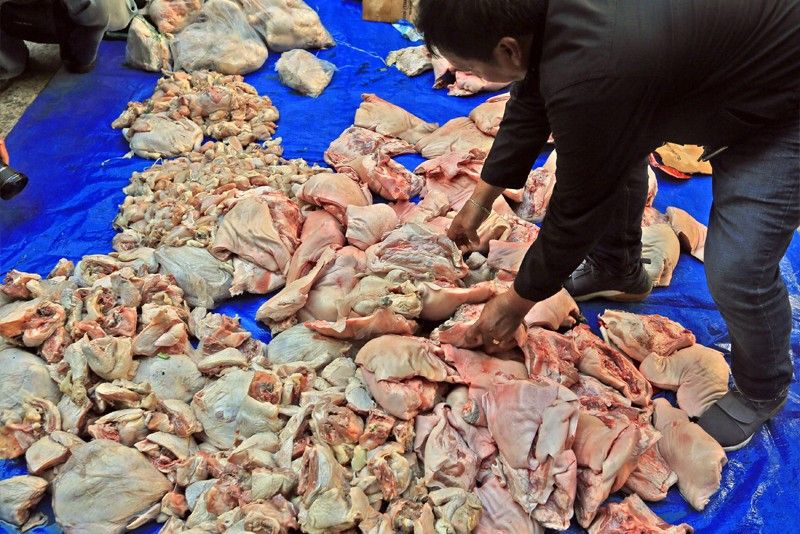 An employee of the Manila City hall's veterinary office inspects 235 kilos of 'botcha' or double dead meat seized in Divisoria yesterday.
Edd Gumban
COA: 1,489 businesses in Manila operated without permits
MANILA, Philippines — Over a thousand business establishments in Manila operated without permits during the term of former mayor Joseph Estrada, which deprived the city government of additional revenue, the Commission on Audit (COA) said in its latest report.
"A total of 1,489 business establishments in 92 barangays were not found in the city database, thus operating without permits in violation of Section 143 of the Local Government Code," the audit body said in its 2018 annual audit report.
Under the Local Government Code, the city government may impose excise tax and value-added tax on business establishments not exceeding two percent of gross sales or receipts of the preceding calendar year.
State auditors said a review of the city's database showed that as of Dec. 31, 2018, there were 5,432 businesses granted permits even if the establishments were not included in the lists submitted to the audit team by the 92 barangays in the city.
The COA said this indicated that the business establishments were given permits without first obtaining barangay clearances required under Section 152 of the Local Government Code.
"Considering the number of establishments as above noted, there could be a probability that taxes may have been avoided by the owners or proprietors of businesses," it said.
The audit body urged the administration of Mayor Isko Moreno to update the city government's database and include all establishments conducting business in its jurisdiction to serve as reference for the imposition of taxes, fees and other charges.
The COA also directed the local government to file charges against business establishments operating without permits in accordance with the provision of the city's Revenue Code.
P4.39-billion budget deficit
The same audit report showed that Moreno has inherited from the previous administration a budget shortfall amounting to P4.394 billion.
The COA noted that as of Dec. 31, 2018, the city's total payables stood at P9.047 billion while the cash under its General Fund amounted to only P5.360 billion, for a deficit of P3.686 billion.
State auditors said on top of the P3.686 billion cash decifit, the city government borrowed from other sources such as the development fund and intra-agency accounts even if the funds for such accounts were allocated for specific projects.
The COA said the city government's cash shortfall totaled P4.394 billion, consisting of P3.686 billion in payables; unrecorded disbursements (P345.935 billion); unimplemented projects (P95.408 million); savings taken from development fund (P18.512 billion), and net difference of intra-agency accounts (P247.146 million).