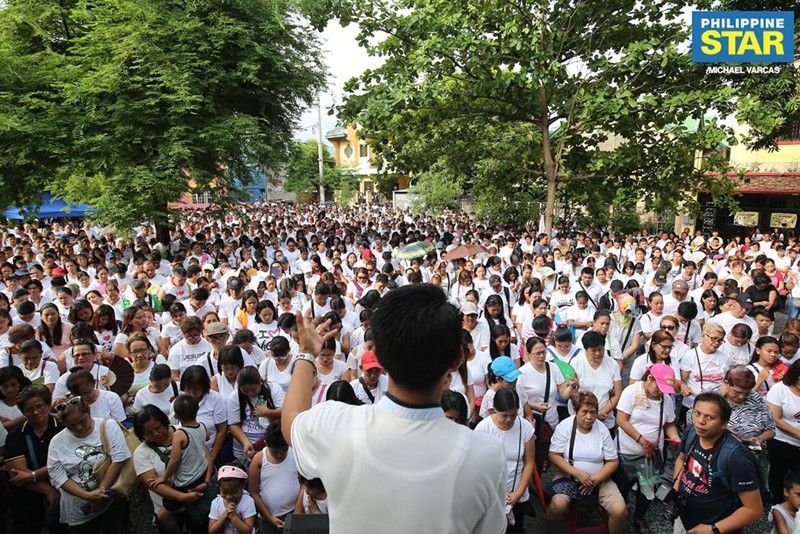 Regner Peneza, NBI-Sarangani district office chief, said a manhunt for Joel Apolinario and his wife Reyna, a KAPA officer, is ongoing.
File
KAPA founder, wife missing?
GENERAL SANTOS CITY, Philippines — The founder of Kapa Community Ministry International Inc. (KAPA) and his wife are nowhere to be found, according to the National Bureau of Investigation.
Regner Peneza, NBI-Sarangani district office chief, said a manhunt for Joel Apolinario and his wife Reyna, a KAPA officer, is ongoing.
"As per the order of the President to go after operators of KAPA... Apolinario, his companions and other accomplices can be arrested anytime," Peneza told The STAR.
Securities and Exchange Commission (SEC) Chairman Emilio Aquino said KAPA "amassed wealth through an investment scam in the guise of religion and at the expense of the investing public."
Apolinario was last seen on June 13 when he arrived on a helicopter at the Calumpang Sports Complex in this city.
The couple as well as the other officers and incorporators of the religious organization were placed on the immigration lookout bulletin order.
NBI and SEC personnel padlocked the house of the Apolinarios and seized their vehicles in Barangay City Heights here on June 10.
The SEC said it secured more than P100 million of KAPA's assets based on a freeze order issued by the Court of Appeals.
Despite the closure of KAPA offices, assistant pastor John Lumapat and monitoring officer Ginalyn Magaso said many of their members are confident that the operations of their group would resume.
"We are not talking of returning money to our members because they are confident we can still operate... amid the trials we are facing," Lumapat said.
Revoke permits
Meanwhile, Interior Secretary Eduardo Año urged local chief executives to revoke the business permits of KAPA to prevent more people from being duped into investing their money in a fraudulent scheme.
"Marami na ang naloko at marami pa sa ating mga kababayan ang maloloko... kung hindi ito aaksyunan ng mga mayor," Año said.
He said licenses and permits could be revoked for any violation of the conditions upon which those were issued under the Local Government Code.
"In the case of KAPA, it is very clear that it has abused the privilege given by the government... It has ventured in an enterprise, which promised profits that it cannot fulfill," Año said.
Philippine National Police chief Gen. Oscar Albayalde said the campaign against companies tagged in investment scams has been intensified.
Maj. Gen. Amador Corpus, director of the police CriminalInvestigation and Detection Group, said search warrants were served on at least 15 firms.
"We have recovered documents and other pieces of evidence which we could use in filing appropriate cases," Corpus said.