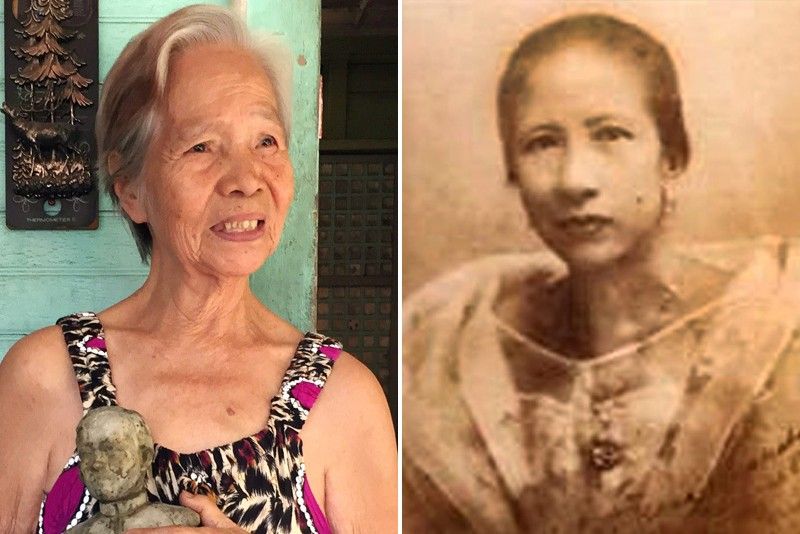 Holding a bust of Andres Bonifacio, a family heirloom, Gertrudes Sevilla recalls being a neighbor of Bonifacio's wife Gregoria de Jesus (above) as a girl.
Marc Jayson Cayabyab
Caloocan elderly remember Bonifacio's wife
MANILA, Philippines — Gertrudes Sevilla, 85, had lived in a heritage house along Zamora street in Caloocan since she was a girl, just across the bahay kubo where the "Lakambini" or muse of the Philippine Revolution once resided.
As the country celebrated its 121st Independence Day this month, Sevilla takes pride at once being the neighbor of Gregoria de Jesus, or Lola Oryang as they called her, the wife of Katipunan leader Andres Bonifacio.
In an interview with The STAR at her residence, Sevilla said her father Benedicto Natividad is the second cousin of Lola Oryang, whom she described as a beautiful, mestiza woman who once gave her a pearl ring when she was a girl.
Now the empty lot across Sevilla's house where Lola Oryang's bahay kubo once stood is teeming with chickens and wild grass, with a fence to keep away squatters. The empty lot is located beside the Caloocan City Medical Center South.
"She did not tell us stories that much, that's why I don't know much about her love story with Bonifacio," Sevilla said. "But I remember her as a beautiful, fair woman."
Oryang to Goria
Oryang was Bonifacio's second wife and they had a son, Andres Jr., who was born in the De Jesus Caloocan home (along Calle Baltazar, now Zamora street) but died as an infant.
Sevilla recalled visiting Lola Oryang when she was six years old at her house in Malate. Oryang had by then married again, to Katipunan composer and secretary Julio Nakpil.
Remington and Mauser rifles were supposedly buried under the garden of their Caloocan house, De Jesus' grandson Francisco Nakpil recounted Lola Oryang as sharing in a personal account published on the website of Bahay Nakpil, a heritage house in Quiapo where she resided since marrying Nakpil, Bonifacio's secretary.
Their son, Juan Nakpil, became National Artist for Architecture.
Their Lola Goria, as they called her, was also fond of reading Lola Basyang stories to them from Liwayway magazines, Francisco Nakpil added in his account.
Oryang played a role in hiding key Katipunan documents from Spanish soldiers' eyes and even joined Bonifacio in the mountains during the revolution.
But for girls then like Sevilla, Oryang was their quiet lola or grandmother who had allowed them to play in the yard among bountiful fruit trees.
Holding a bust of Bonifacio, a family heirloom, Sevilla lamented that Lola Oryang had not shared with them her love story with Bonifacio, who courted her when she was just 18 years old.
"How I wish I had met Lolo Andres," Sevilla said.
Tragic end
Oryang and Bonifacio's love story took a tragic turn at the height of the Philippine revolution against Spain. According to her autobiography, Oryang searched for Bonifacio's remains in the mountains upon hearing about the death sentence on her husband, and even tried to talk to Emilio Aguinaldo to appeal the verdict.
Benedicto Sanchez, 86, a longtime resident of Zamora street, recalled playing outside and seeing Lola Oryang in the house wearing traditional attire.
"The young ones – they may not know any more that the wife of Bonifacio onced lived here. But we elderly ones – we know our place is part of history," he said.