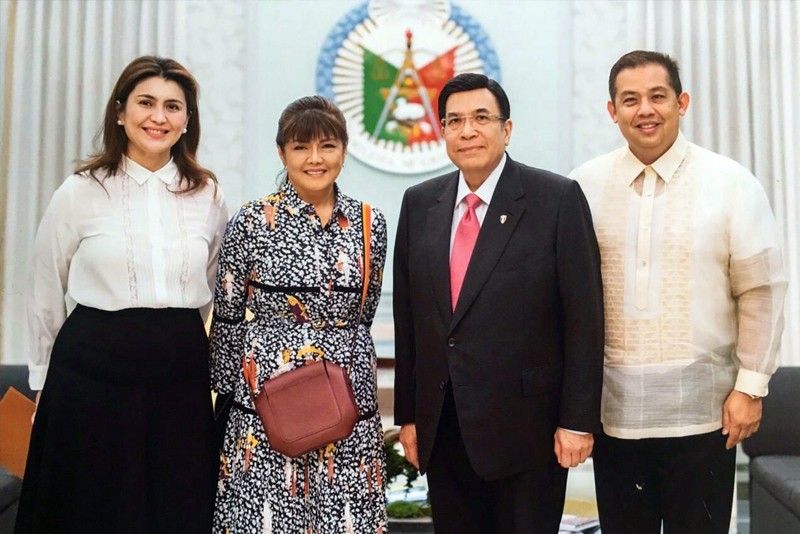 Reelected Leyte Rep. Martin Romualdez (right), who is Lakas-CMD president and a candidate for speaker; Tingog party-list Rep. Yedda Marie Romualdez (left) and Senator-elect Imee Marcos thank Iglesia Ni Cristo executive minister Eduardo Manalo for the INC's endorsement in the midterm elections held earlier this month.
Romualdez vows representation of party-list groups in committees
MANILA, Philippines — Reelected Leyte Rep. Martin Romualdez has assured the 55-strong Party-List Coalition (PLC) in the House of Representatives of proper, fair and equitable distribution in committee chairmanship and membership if he is elected as speaker.
"The party-list group comprises 20 percent of the House. We will work for their proper representation in various committees and budget allocations, among others. These are the things we will thresh out," he told reporters in an interview.
The returning administration lawmaker made the assurance in a meeting organized last week by the PLC headed by Rep. Mikee Romero of party-list 1Pacman, whose group invited aspirants for the speakership as they vowed to vote as one bloc by July 22.
There are 61 elected party-list representatives in the 18th Congress (July 2019 to July 2022), results from the Commission on Elections showed, but six members of the left-wing Makabayan bloc – perennially anti-government – always vote on the opposing side.
At least 126 House members have so far signed a manifesto supporting Romualdez's speakership bid.
Another serious contender, reelected lone Marinduque Rep. Lord Allan Velasco, also courted the PLC last week at the Marco Polo Hotel in Pasig City, where the PLC held a post-proclamation meeting.
"I think Mayor Inday (Sara Duterte-Carpio) has given her trust and confidence in me to be the next speaker of the House. I think I have their trust and confidence. I think the President will announce soon," he told media in an interview.
Velasco cited Duterte-Carpio's pronouncements "during our campaign trail" where she "has been very vocal about it."
Meanwhile, lawmakers from the PLC have expressed dismay over the reported threat made by returning Taguig Rep. Alan Peter Cayetano that he would take it personally against those who will not vote for him.
"It was not courtship, but a clear case of bullying. He lacks emotional quotient. If he can threaten Mayor Sara with that, he can also do that to us. We are not surprised anymore," a source said.
In the same forum, Cayetano allegedly said he has 15 "loyalist-congressmen" to his side.
"Cayetano was blunt and straight. He told us that he was there not to negotiate because he already got the endorsement of the President," the source added. "He said he will be our best friend if we support him. But he warned he will be our worst enemy if we are not with him."
"He comes strong as a bully who drops the President's name to get what he wants," the source also said.