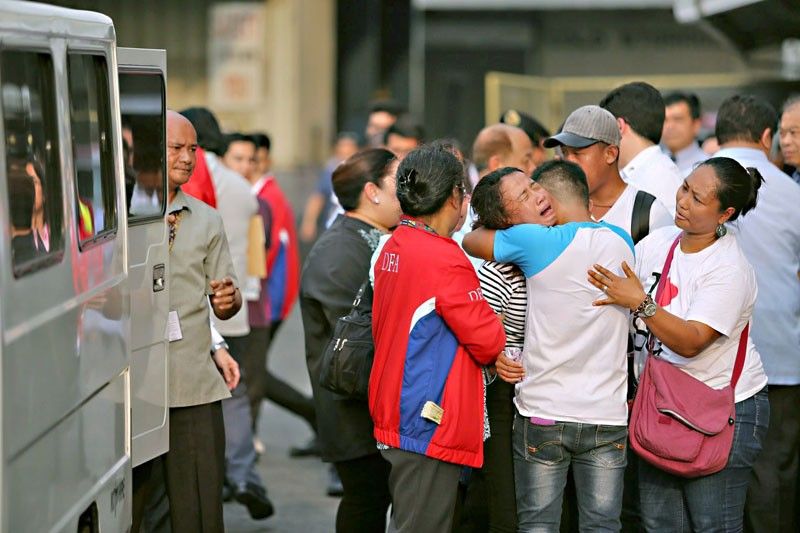 Relatives of Constancia Dayag grieve after seeing her remains at the Ninoy Aquino International Airport yesterday.
Russell Palma
Autopsy on Filipina maid who died in Kuwait set
MANILA, Philippines — The National Bureau of Investigation (NBI) is set to conduct an autopsy on Constancia Dayag, a Filipina housemaid who died in Kuwait last week.
Dayag's remains arrived at the Ninoy Aquino International Airport yesterday.
Labor Undersecretary Renato Ebarle said they asked the NBI to conduct an autopsy and toxicology tests based on the request of the victim's family.
The Dayag family wants to determine what caused her death, Ebarle said.
The Filipina maid was found dead at her employer's home in Kuwait. Her body was in decomposing state.
"At the very least, the autopsy will help give her family peace of mind and a clearer view of the circumstances surrounding her death," Ebarle said.
Dayag, a 47-year-old mother of three, left the country in 2016 to work in Kuwait.
She was scheduled to come home for a vacation in May until the news of her death broke.
Dayag's family received P120,000 in financial assistance from the Overseas Workers Welfare Administration. Recruitment agencies shelled out another P200,000.
The Department of Labor and Employment reported that a 61-year-old Kuwaiti suspected of killing Dayag had been arrested.
Labor officials said the government was considering renewing the ban on the deployment of Filipino workers to Kuwait following the death of Dayag.
Over a year ago, the government banned the deployment of Filipino workers to Kuwait after the body of a Filipina was found stuffed in a freezer in an abandoned apartment.