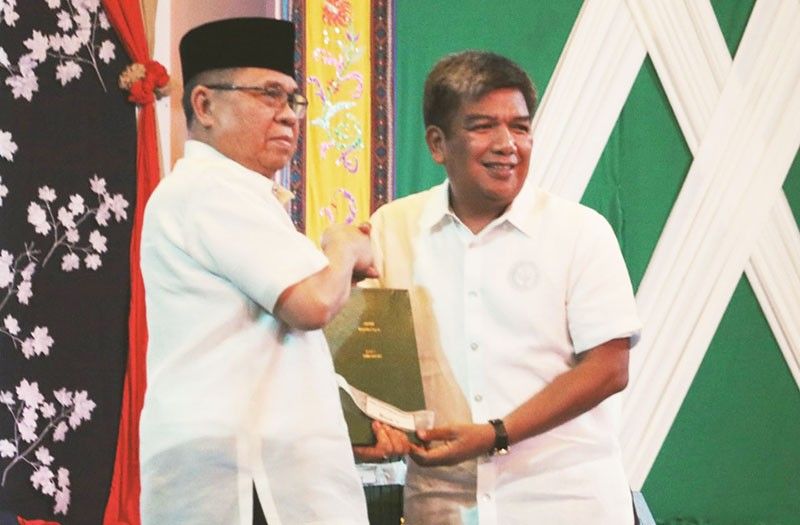 Mujiv Hataman, now Basilan's congressman (right), turned over last February the Autonomous Region in Muslim Mindanao to incoming Chief Minister Hadji Ahod Ebrahim of the Bangsamoro Autonomous Region in Muslim Mindanao
Philstar.com/John Unson
Ex-ARMM governor, regional speaker win congressional seat
COTABATO CITY, Philippines — The former first and third highest officials of the defunct Autonomous Region in Muslim Mindanao have been elected congressional representatives in their respective provinces.
Employees of the Bangsamoro government were elated with the election of former ARMM Gov. Mujiv Hataman and Speaker Ronnie Sinsuat of ARMM's deactivated 24-member Regional Assembly, as congressmen in Basilan and in the first district of Maguindanao, respectively.
Hataman got to the helm of the autonomous region in 2012 and stepped down last February to pave the way for the replacement of ARMM with a Bangsamoro Autonomous Region in Muslim Mindanao, a product of 22 years of peace talks between the government and the Moro Islamic Liberation Front.
Personnel of ARMM agencies now under the MILF-led BARMM started posting goodwill messages for Hataman on Wednesday, some calling for the continuation of his peace programs in Basilan that led to the surrender in the past two years of more than 200 Abu Sayyaf members now being reintegrated by the provincial government to the local communities.
Hataman defeated in Monday's election rival Omar Akbar, scion of Basilan's once powerful Akbar political clan.
Besides Omar two other Akbars lost in their bids for the mayoral post in Isabela City, former capital of Basilan, and for the gubernatorial seat in the island province that their clan ruled for about two decades.
The defeat of the three Akbars cut the last string binding their clan to Basilan's political world, now dominated by ethnic Yakan Muslims Hataman and the reelected Gov. Jim Salliman and their ally Christian politicians in Lamitan City led by Vice Mayor Roderick Furigay, also a staunch supporter of Malacañang's Mindanao peace process.
The now outgoing third-termer Maguindanao Gov. Esmael Mangudadatu was also elected congressman in the second district of Maguindanao.
Mangudadatu is remembered for his having pioneered Maguindanao Program for Peace and Community empowerment that provided college education to thousands of now professional Muslim, Christian and Lumad students, many of them dependents of MILF members.
He was also instrumental in the amicable settlement of more than a hundred deadly clan wars involving big Maguindanaon clans during his term.
The gubernatorial post Mangudadatu occupied for nine years shall be taken over by a newcomer, governor-elect Mariam Sangki-Mangudadatu, outgoing mayor of Datu Abdullah Sangki town in the second district of Maguindanao.
The now congressmen Hataman, Sinsuat and Mangudadatu are longtime political allies,
They cooperated in supporting favored candidates for local and provincial positions during the 2013 and 2016 elections.
All three of them also campaigned extensively for the ratification of BARMM's charter, the Bangsamoro Organic Law, during a plebiscite last January 21 in all five provinces of ARMM --- Maguindanao, Lanao del Sur, Basilan, Sulu and Tawi-Tawi --- now comprising BARMM's territory.
Hadji Ahod Ebrahim, chief minister of BARMM and concurrent head of the Bangsamoro Transition Commission, said he is certain Hataman, Sinsuat and Mangudadatu will shepherd the Moro cause to the House of Representatives.
"It is so good to see the public officials who endorsed the BOL to their constituents when we were campaigning for its ratification get to the House of Representatives," said Ebrahim, also known by his nom de guerre Hadji Murad.