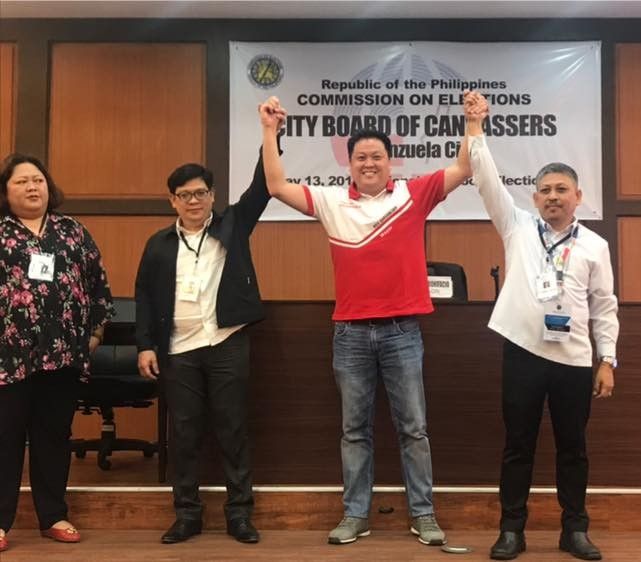 Gatchalian won by a landslide with 249,508 votes based on the official count.
Facebook/REX Gatchalian
Mayor Rex Gatchalian wins third term in Valenzuela
MANILA, Philippines — Valenzuela Mayor Rex Gatchalian vowed to continue his programs during his third and last term, after being proclaimed winner in the mayoralty race.
Gatchalian won by a landslide with 249,508 votes based on the official count while his two other contenders Bien Español and Bong Go (not to be mistaken with former special assistant to the president Christopher "Bong" Go) got 2,288 and 6,239 votes, respectively.
In an interview shortly before he was proclaimed at past midnight yesterday, Gatchalian said he was humbled that his constituents gave him another shot to complete his three terms.
"My heart is full. I just listened to the public's sentiment. The answers came from them," Gatchalian said, as he promised to continue giving the city more green spaces and public libraries before his third term ends.
Gatchalian initially wanted to request the Commission on Elections to lower the threshold because of late transmission of votes, but he was eventually proclaimed shortly after midnight yesterday upon 100 percent votes transmission.
A few hours after he was proclaimed, Gatchalian's first marching order was for city hall employees to take down campaign posters and materials.
Gatchalian's Vice Mayor Lorie Natividad-Borja won her second term unopposed with 226,091 votes.
Gatchalian's ticket dominated the congressional and councilor race.
Gatchalian's brother Wes Gatchalian won a second term unopposed as first district representative with 119,991 votes.
Eric Martinez of Partido Demokratikong Pilipino-Lakas ng Bayan won a second term in the second district with 106,848 votes against Magi Gunigundo of Lakas who got 37,935.
Gatchalian's 12 councilors in two districts also won unopposed, including GMA artist Charee Pineda, who won as number one councilor in the second district with 118,702 votes.
The voter turnout in Valenzuela is 74.48 percent, with 281,574 casting their votes of the total 378,013 registered voters.