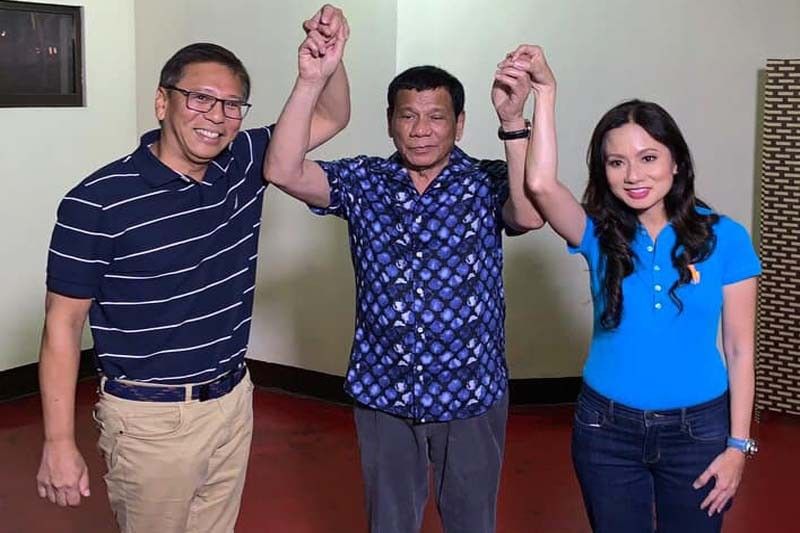 Spouses Federico "Ricky" and Jeannie Sandoval, the outgoing Malabon City representative and vice-mayor who are backed by the Duterte administration, failed to win the city leadership in Malabon from Josephine Veronique "Jaye" Lacson-Noel and incumbent Mayor Antolin "Len-Len" Oreta.
Ricky Sandoval/Facebook
'Duterte magic' did not work like a charm for Malabon's local slate
MANILA, Philippines — While candidates endorsed by President Rodrigo Duterte fared well in the senatorial race, that was not the case for Malabon City bets backed by the chief executive.
Federico "Ricky" Sandoval and his wife Jeannie, outgoing Malabon City representative and vice-mayor, respectively, failed to win the city leadership from Josephine Veronique "Jaye" Lacson-Noel and incumbent Mayor Antolin "Len-Len" Oreta.
As of 2:50 p.m., the Commission on Elections' partial and unofficial results showed that Nationalist People's Coalition bet Lacson-Noel leads the congressional race with 84,856 votes against re-electionist Ricky who garnered 64,902 votes.
Oreta, running under the opposition Liberal Party, also aced the mayoralty race with 99,425 votes against Jeannie's 55,579 votes.
The election results covered 98.87% election returns or 159,831 votes out of 222,350 voters registered in the city.
The Sandoval couple, running under the ruling party PDP-Laban and dominant minority party Nacionalista Party, was personally endorsed by Duterte during the campaign period. They dubbed themselves "partners for change."
Jeannie also had campaign materials with the phrase "Tatay Digong's Choice."
Last month, Duterte threatened to have Oreta arrested if he failed to get rid of the alleged drug problem of Malabon City in a month.
"Mayor, linisin mo ang Malabon mo. Bigyan kita ng isang buwan. Sabihin ko kay (Congressman) Ricky, sorry na lang ha, ipahuli ko mayor 'nyo. Itapon na lang sa Manila Bay (Mayor, clean up Malabon. I'm giving you one month. I'll tell Ricky, sorry, I will have your mayor arrested. Just throw him in Manila Bay)," Duterte said in a speech during a campaign rally on April 2.
READ: Duterte warns Malabon Mayor Antolin Oreta of arrest over drugs
The Philippine Drug Enforcement Agency, however, named the city as Metro Manila's top anti-illegal drugs campaigner weeks later after it cleared six more barangay from drugs.
Oreta is the son of former Sen. Teresa "Tessie" Aquino-Oreta. He is also the cousin of former President Benigno "Noynoy" Aquino and LP re-electionist Sen. Bam Aquino.
With his win, Oreta will serve his third and last term.
The mayor said Malabon City started fighting illegal drugs even before the Duterte administration lodged its war on drugs.
Meanwhile, Oreta's running mate, Ninong Dela Cruz also leads the vice mayoral race with 82,075 votes against Jeannie's running mate Maricar Torres who earned 63,531 votes.