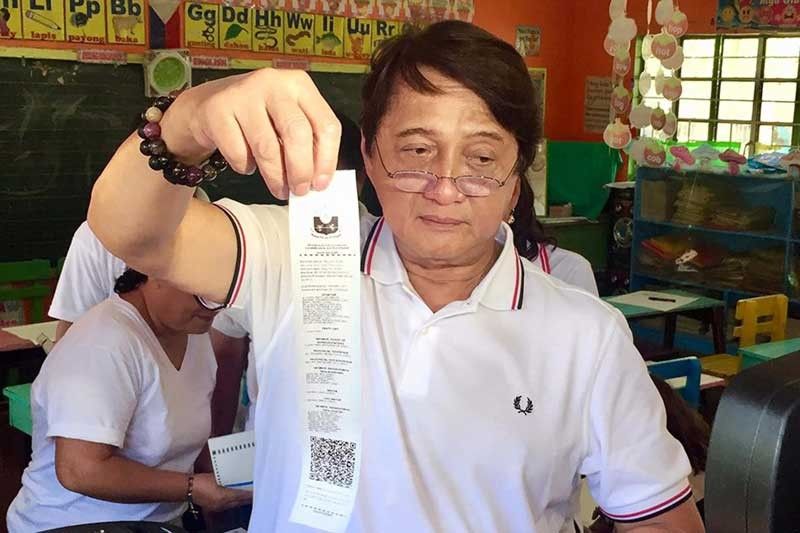 Davao del Norte Rep. Antonio Floirendo shows his voter's receipt in a polling precinct in Panabo City yesterday.
Photo courtesy of abs-cbn. news.com.
Floirendo faces raps for showing ballot
MANILA, Philippines — For showing his ballot and voter's receipt, Davao del Norte Rep. Antonio Floirendo Jr. may face charges for violation of election laws.
Commission on Elections (Comelec) spokesman James Jimenez said showing the content of a ballot and voter's receipt is prohibited under the law.
"It is considered an election offense," Jimenez said.
Floirendo said he showed his ballot and voter's receipt to prove that he voted for candidates of the Hugpong ng Pagbabago led by Davao City Mayor Sara Duterte-Carpio. He is seeking reelection under the HNP.
The Comelec has repeatedly warned voters against showing or taking photos of their ballots as it violates the sanctity of their votes.
An election offense is punishable with imprisonment of up to six years, disqualification from holding public office and loss of the right to vote.
In a report on news.abs-cbn.com, Floirendo said he did not commit any violation.
"Violation ba yun ipakita ko? It's my right to show my own vote, di ba?... It's really much better instead of telling a lie... it's your right to show it if you want to show it para wala na 'yung intriga-intriga sa buhay," the lawmaker was quoted as saying.
Meanwhile, Pangasinan Gov. Amado Espino III denied reports that he and his brother Bugallon Mayor Jumel Espino have been disqualified over alleged vote buying.
The governor said they are not involved in vote buying. He also cited a statement of the Comelec provincial office that no candidate in Pangasinan has been disqualified. – With Cesar Ramirez