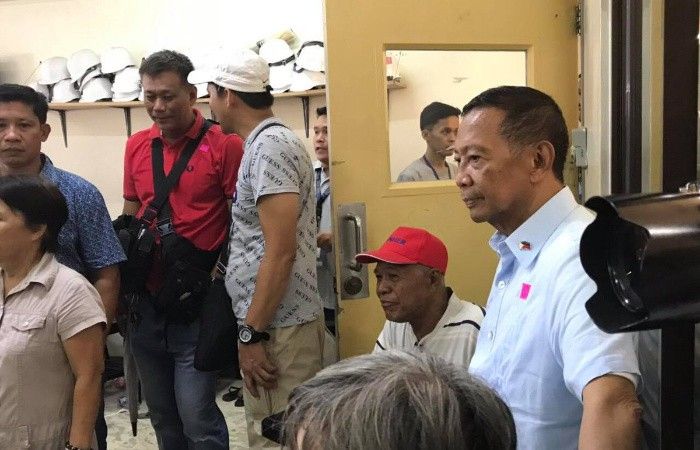 Jejomar Binay, a congressional candidate and former vice president, returns to his polling precinct in Makati City where a vote counting machine earlier rejected his ballot on elections day in the Philippines on Monday, May 13, 2019.
The STAR/Robertzon Ramirez
Malfunctioning poll machine to blame for Binay voting incident — Comelec
MANILA, Philippines — An error with a vote counting machine on Monday's election in Makati City was the reason behind former vice president Jejomar Binay's inability to vote in his precinct in Makati, the Commission on Elections said.
Binay, who arrived in a polling precinct in Makati City where he is running for congressman, saw his ballot rejected eight times. He then headed to the Philippine International Convention Center to file a complaint at the site where the poll commission in holding its national canvassing operations.
Speaking next to Binay, Jimenez said at a press conference on Monday that the Comelec has since replaced the machine.
As of posting time, Binay has returned to Makati to re-feed his ballot with the new machine.
Apart from Binay, other voters that were unable to cast their vote with the same machine will also be able to re-feed their ballots.
"Hindi lang siya ang essentially ng makakarefeed, lahat ng nareject, especially those that came after him, lahat yun marerefeed," Jimenez said.
"So hindi ito special treatment in any way, it's being done for everyone," he added.
The Comelec has yet to find the figures on how many votes were actually affected by this glitch.
Binay's children, Junjun and Abby, are competing for the mayoral seat in their home turf of Makati City. Another daughter, Nancy, meanwhile, is aiming to renew her position as senator.