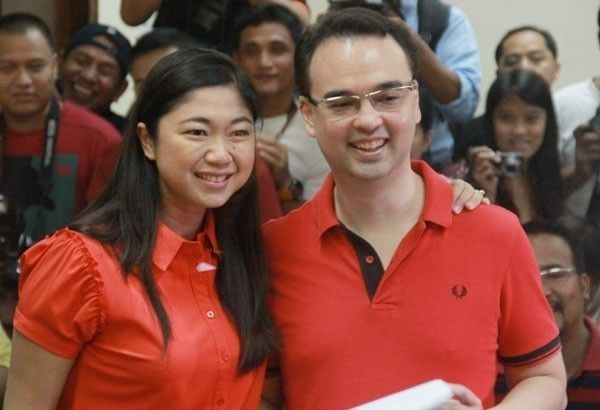 Alan Peter is running to represent the first district of Taguig-Pateros, while his wife Lani is vying to become the representative for the second district.
File
Comelec asked to reconsider disqualification vs Alan Peter Cayetano
(Philstar.com) - May 10, 2019 - 10:54am
MANILA, Philippines — The petitioner who asked the Commission on Elections (Comelec) to disqualify former Foreign Affairs Secretary Alan Peter Cayetano asked the poll body to reverse its ruling on the case.
Earlier this week, the Comelec's Second Division denied the petition of Leonedes Buac against Cayetano for failing to prove that the latter committed any "material misrepresentation" on his residency.
Cayetano is running for representative of the first district of Taguig City while his wife, Taguig Mayor Lani Cayetano, is also running for the second district. The spouses have different addresses indicated on their certificates of candidacy.
In the motion of reconsideration filed Friday, Buac's legal counsel Emil Marañon III pointed out that Barangay Bagumbayan in the first district of Taguig is not Cayetano's "domicile of origin" but only his "domicile of choice."
The petitioner asked the Comelec to reverse and set aside its resolution to dismiss the disqualification case against Cayetano.
Cayetano was born in Mandaluyong, raised in Parañaque and moved to Taguig in 1991. He started running for public office in Taguig in 1992.
The petitioner stressed that Cayetano physically abandoned his home in Barangay Bagumbayan and moved to his conjugal home with wife Lani at Barangay Fort Bonifacio, which is in the second district.
"He (Cayetano) admitted in his pleadings that along with his wife, they constituted a new family home in Two Serendra, Barangay Fort Bonifacion, abandoning their former family home in Barangay Bagumbayan," the motion read.
The motion also pointed out that Cayetano's intent to transfer and settle in Fort Bonifacion was apparent upon leaving his Bagumbayan home. This also shows that he is no longer a resident of the first district, where he is running for congressman.
"All of these constitute as overt acts showing, proving and manifesting respondent's intention to transfer and settle in Barangay Fort Bonifacio in the Second District," the petitioner said. — Patricia Lourdes Viray