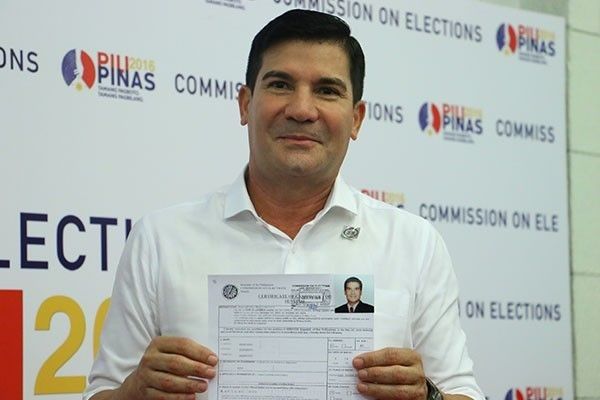 In this file photo from 2016, Manzano holds up his certificate of candidacy for senator. He had also previously run for vice president and for mayor of Makati City.
Philstar.com, File
Edu Manzano insists Filipino citizenship despite serving in US Air Force
MANILA, Philippines — Actor Edu Manzano insisted that he is a Filipino citizen and stressed that he never swore an oath of allegiance to the United States despite serving in the US Air Force before.
The Commission on Elections (Comelec) Second Division had canceled his certificate of candidacy for representative for the lone district of San Juan City for committing "false material representation of his citizenship."
"Without direct proof of his oath of allegiance being registered in the local civil registry in the place where he resides, respondent cannot be considered to have reacquired his Philippine citizenship under our laws," the resolution read.
Manzano was born of Filipino parents in California, making him both a citizen of the Philippines and the US. The Comelec resolution also noted that he served in the US Air Force from 1973 to 1977.
The actor, however, claimed that he never voluntarily entered the US Air Force as he was automatically drafted.
"At that time, we had a Mutual Defense Treaty with America and we also had a military bases agreement so my line number came in. What happens is if you don't choose a branch of service by the time your line number is up, they will determine which branch of service you will serve because if you don not serve, it becomes a criminal offense and you will be jailed," Manzano told ANC's Headstart Wednesday morning.
Manzano added that he went to the Clark Air Base to sign up for the US Air Force when his line number was up and that he asked to be assigned in the Philippines.
The US Air Force assigned Manzano to the US, where he served as a missile engineer.
Manzano, who served as Makati City vice mayor from 1998 to 2001, stood firm on his position that he is a Filipino citizen as he was able to vote in the 1992, 1995 and 1998 elections. He even ran for vice president in the 2010 and for senator in 2016.
"What happens there is every time you fill up a certificate of candidacy there is a little oath there that you renounce any allegiance to another country and you affirm allegiance to your country," Manzano said.
He noted that he was drafted in the US Air Force because under American law based on "jus soli" or right of the soil, he is an American citizen and there was an ongoing war in Vietnam at that time.
In the Philippines, the principle of nationality is based on "jus sangunis" which means that citizenship is not determined by birthplace but by having one or both parents who are Filipino Citizens.
"I never swore for the US. They never asked me to," he said.
In 1998, a similar petition, filed by his then opponent Ernesto Mercado, was filed against Manzano when he ran for vice mayor. Mercado questioned Manzano's qualification to run due to his citizenship.
The Comelec also canceled his certificate of candidacy then, causing his proclamation as Makati City vice mayor to be delayed. The petition was elevated to the Supreme Court, which later on ruled that Manzano had repudiated his American citizenship when he filed his candidacy, resulting in his sole citizenship as Filipino.
"To recapitulate, by declaring in his certificate of candidacy that he is a Filipino citizen; that he is not a permanent resident or immigrant of another country; that he will defend and support the Constitution of the Philippines and bear true faith and allegiance thereto and that he does so without mental reservation, private respondent has, as far as the laws of this country are concerned, effectively repudiated his American citizenship and anything which he may have said before as a dual citizen," the Supreme Court ruling read.