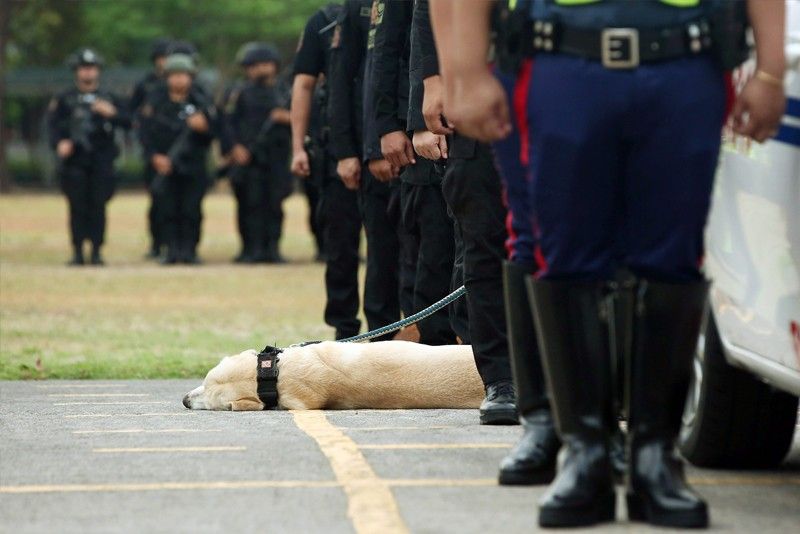 Sleeping on the job: A K9 takes a nap during yesterday's deployment of members of the Armed Forces and Philippine National Police at Camp Aguinaldo in Quezon City to secure the midterm elections.
Miguel de Guzman
NCRPO on alert for next week's polls
MANILA, Philippines — The 29,000-strong National Capital Region Police Office (NCRPO) was placed on full alert yesterday to secure the May 13 midterm polls, a police official said.
NCRPO chief Maj. Gen. Guillermo Eleazar said police officers are not allowed to take a leave of absence as they are needed for election duties.
"All leaves are canceled, except those that are emergency in nature. All policemen should be present in their respective offices and stations," Eleazar said in an interview.
A total of 16,000 policemen will be deployed to polling precincts and canvassing centers in Metro Manila.
Eleazar ordered the five police district directors in the metropolis to monitor political developments in areas where election-related violence occurred in the past.
He said the NCRPO would set up more checkpoints and intensify police visibility until June 13, the last day of the election gun ban.
"I have instructed our police officers not to engage in partisan politics to uphold the integrity of the elections," Eleazar said.
He urged Metro Manilans to exercise their right to vote on Monday.